Summon: How did the band get started?
Adar: Hi, I`m Adar from SHTURM. The band was founded in 2003. Those days I had just enrolled at a university, I was dreaming to play thrash metal, I found a bass guitarist, Sinner and a drummer, Jaroslav. We all together began writing our music and those days the songs we wrote were more like black metal. This year we recorded our first demo Shape of Chaos., аnd in 2004 we wrote a full-length album "Fresh Christian Meat". The next several years the band had no any established line-up and that was the reason the next album Kalahia was recorded just in 2008 and was published through the Russian label Fono Ltd.
Summon: What kind of music do you play?
Adar: At the beginning we played black metal, the album "Fresh Christian Meat" is melodic death/black and the "Kalahia" is already a technical death/black with ethnic parts. The new material has taken also the influence of heavy metal. 
Summon: How has the fan response been?
Adar: Every step we did in our music was supported by a certain range of people who appreciated our music. Those times we had made "Kalahia" the way people react was not certain – some of them liked our music and the others didn't , some admired the songs from that album and still they do, and some people spat in our faces and said we have no any right to be alive. The new album "Karmaruna" is being appreciated by a wide range of fans, it's this album that makes us more famous.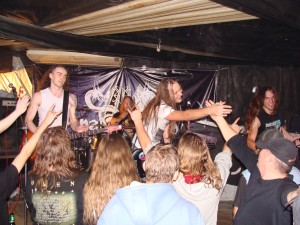 Summon: Where did the band name come from?
Adar: Once I had a desire to call the band Storm, but I realized that there are too much bands have that name in the world, so I just used an English transliteration of the Russian word Storm, so I had Shturm finally.

Summon: Introduce the band members and what they do in the band.
Adar: Now the current line-up is: Omuth- guitar, vocals, Kane-bass, Petreno-drums and I, Аdar- guitar, vocals.

Summon: Who writes the music? Lyrics?
Adar: The music of the last album "Kalahia" was written by just me and Omuth and now Petreno joined us in writing. Omuth and I still write all the lyrics.
Summon: And where do the lyric ideas come from?
Adar: Our past songs were about the antichristianity, about the rebellion against society, after that we deeply immersed in Tibetan mysteries, and now the lyrics comes from our personal experience and also from some rueful feelings which we look at through the Tibetan philosophy.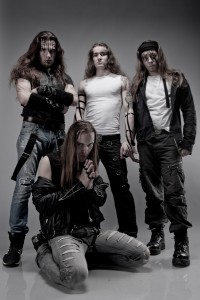 Summon: What is your view in Satanism and Occultism?
Adar: As I mentioned earlier, in the early period we sang about antichristianity and those days we were much closer to Satanism and then Occultism, but soon it has transformed into the infatuation with Tibetan philosophy, which has a lot of occult themes.

Summon: How many albums/CD's have you released?
Adar: Our first album "Fresh Christian meet" we published through the Russian underground. The second album "Kalahia" has been published by one of the most serious Russian labels, Fono LTD, and the third (and for now it's the last album) are recently coming out through Darknagar Records in digibook format.

Summon: Tell me about some the songs on the latest CD?
Adar: I say couple words about Eagles above Tibet. Its more like a death metal ballad, which we never did before. Also I'd like to mention Solitude Beside, the song which people like most of the rest songs.

Summon: Do you have any side projects?
Adar: Several years ago our drummer Petreno and bass guitarist Kane had several side projects, but now they are no more and each of us play only in Shturm.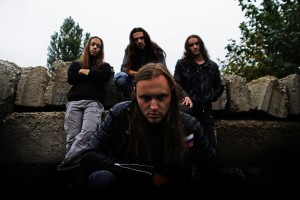 Summon: Who are some of your musical influences?
Adar: Many bands had an influence on us among them there are Nile, Behemoth, Immortal, Death, Metallica, Iron Maiden, Black Sabbath, DIO. The list may be very long and ambiguous… Some of them influenced us not through their music, but through the way of life.

Summon: Which current bands?
Adar: Almost all the musicians which influenced us are alive despite Ronnie DIO. We really regret…Ronnie R.I.P.

Summon: What is the band like when you play live?
Adar: Its always mightily, fast and heavy! There's no other way to play metal.
Summon: Have you guys ever played in another country?
Adar: Besides Russia we also played in Belarus, this is a small country in Eastern Europe. I hope we'll make gigs in other countries in future.
Summon: How big of crowd shows up at shows usually?
Adar: It's always different. Sometimes you see 100 people at concerts, sometimes 1000. Everything depends on promotion, the list of the bands playing and the time and the day the concert goes.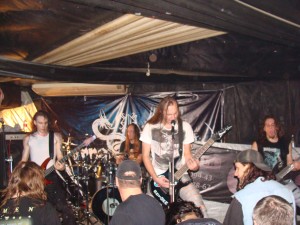 Summon: How is the crowd response when you play?
Adar: The biggest part of the crowd, certainly, always supports us, before the scene we always see the most active headbangers, some of them just stand and listen to, some are moshing.

Summon: What do you think of the US Black Metal/Death Metal scene?
Adar: As for the US black metal, I like Judas Iscariot, also I like many American death metal bands. America is a motherland of death metal, almost every serious death metal bands are from the United States, so there's no need to enumerate them, every metalhead knows them.

Summon: What do you think of the overseas scenes?
Adar: The overseas scenes are very intense and they are progressing very actively! In Norway its black metal, in Sweden melodic death and modern death metal, in the United States its death metal and deathcore. All the best that the heavy music has, it has come from the overseas!

Summon: What are some of new favorite black metal/death metal bands?
Adar: I actually don't keep a weary eye on the new bands, but in black metal I have a band which is new for me – Keep of Kalessin, as for death metal its Decrepit Birh, Entrails Eradicated, Eighty Thousand Dead.

Summon: When do you guys plan on writing any new material?
Adar: New material is already being written, we are going to record it by the end of summer 2012, its too early to speak about like what its going to be, but I hope it will be a forceful and up-to-date music. We delayed with the publishing of "Karmaruna", there was almost 4 years between it "Kalahia" were almost 4 years. Now we can't admit such delays, so we do everything fairly quickly now!

Summon: What does the future hold for the band??
Adar: I'm sure everything is going to be fine with Shturm, the band will keep progressing, we'll make more gigs overseas, we'll keep making good albums and music videos. So, a lot good news from us in future!
Contact them at:
http://www.facebook.com/shturmband
http://www.youtube.com/shturmband
http://www.reverbnation.com/shturmband
http://www.myspace.com/shturmofficial