Shores of Null
Black Drapes for Tomorrow
11 Track Album
Candlelight Records/Spinefarm Records
Release Date: 14th April 2017
By: Pagan Hel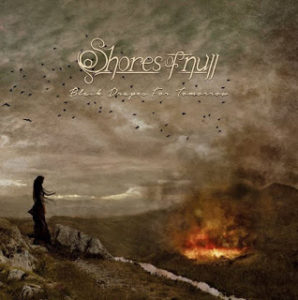 Shores of Null – Rome
Links:
https://www.facebook.com/shoresofnull
Artwork by Diletta F. (Eba Art)
Genre: Blackened Gothic Doom Metal
Biography:
"Following their highly acclaimed debut Quiescence, the gloom maestros are back with an album full of wistful-yet-powerful riffs, blackened aggression and epic melancholy-ridden vocals.  Produced by Marco Mastrobuono at Kick Recording Studio (Fleshgod Apocalypse, Hour Of Penance), Black Drapes For Tomorrow is a profoundly dark outing both musically and lyrically, forging a seamless and overflowing blend of genres into a boiling pot of multi-layered sounds.  The title leaves no room for misinterpretation; Shores of Null are back with a burden of gloom and darkness!"
~~~~~~~~~~
Not as doom-laden as I first thought, it does hold a lot of power behind the scenes as Tributary Waters shows in just 2 minutes and 27 seconds. Donau was quite exciting until that deep vocal entered although I do happen to like the growls that emanate further on in the track. Tide against us showcases the bands 'other side' as it bleeds a raw seduction through its pores but a bit too slow for me to fully engage in sadly. House of Cries holds the typical blackened dark rhythms that shatter the silence with superb triple edged vocals that rasp heartily, softly whisper and then put the fear of God himself into you as they turn deathly. Black Drapes for Tomorrow this is the track that has been extracted from the album for a single, as well as being the band's album title, although there doesn't seem anything dynamic hitting me on this one. The Enemy within changes direction and produces a sweet little number that is acoustically laden. There is something beautiful and yet dark about this passage that is worth exploring. Carry on, my tiny hope is quite a long track at 6 minutes 19 seconds so I am hoping for big things for this track to keep me engaged and not lose interest, and I am not disappointed as the sweeping rhythms connect like a magnet to metal with melodies soaring and highly excitable tones. I can't help wonder why the band didn't release this as a single as it really packs a punch! We ain't ashes returns to a more subtle drowsiness until that death metal vocal executes a powerful roar along with tenuous rhythms and solid melody then it becomes a monster!  A Thousand Storms possesses an edgy ambience along with a fair bit of angst and then suddenly explodes into a tirade of energy and a magnitude of rhythms that fire on all cylinders. The Kolyma Roule strange title and a voice that is incoherent although spoken quietly the rumbustious rhythms and beats take over and drown out the voice and in its place the rampant fracas continues with a strenuous deathly vocal seething as well as clean vocal. Death of a River again holding a beautiful stringed melody this track opens up a serious backdrop of inspiration and leaves one feeling energised by the harmonious exploration this track uncovers.
8.5/10
Tracklist:
Tributary Waters
Donau
Tide against us
House of Cries
Black Drapes for Tomorrow
The Enemy within
Carry on, my tiny hope
We ain't ashes
A Thousand Storms
The Kolyma Roule
Death of a River
Line-up:
Davide Straccione – Vocals
Gabriele Giaccari – Guitar (live backing vocals)
Raffaele Colace – Guitar (live backing growls)
Matteo Capozucca – Bass (live backing screams)
Emiliano Cantiano – Drums