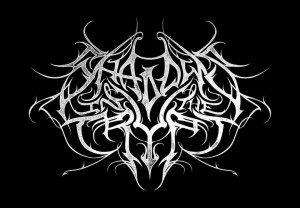 Listen to the Audio Interview here
Summon: How did the band get started?
Lawrence: The band started out in 2009 as just a solo black/thrash metal project that was originally going to feature just me on guitar and bass, and a friend of mine named Christian Simms on vocals. The two of us started working on writing songs and then a friend of ours told us that he would like to play bass and we both agreed to this. Then after we recorded a full length album in 2011, Christian came up with the idea of turning the project into a full band that would be playing out live and selling merchandise. Even though that was not our original intent, we all talked about it and agreed that we would do this when we found a drummer. We found a drummer months later and we started preparing for gigs and writing new material for a second album that would feature an actual drummer rather than my programmed drums that we were using before. That was the start of the actual live band "Shadows in the crypt".
Summon: What kind of music do you play?
George: Black metal in the olden vein of Mayhem, Obtained Enslavement, Emperor, Horna, with shred leads that are comparable to Alex Skolnick's works in Testament.
Summon: How has the fan response been?
George: So far it has been very positive, but it the grand scheme of things, it's better to be your own judge. Especially with "trends" coming and going.
Summon: Where did the band name come from?
Lawrence: I basically just wanted to come up with a creepy mysterious name. I thought it would be really cool to have a name that stuck in people's heads. I came up with it after thinking about it long enough and decided it was a good fit.
Summon: Introduce the band members and what they do in the band.
Lawrence: The current lineup is Josiah Domico and myself playing guitar, and George Loveland on vocals. We are currently looking for a drummer and a bass player since our last bass player quit the band. We have several bass players lined up for audition right now but no drummers yet. So as of just a few weeks ago, it's just been the three of us unfortunately.
Summon: Who writes the music? Lyrics?
Lawrence: George Loveland writes all of the lyrics, and so far I have written all of the guitar music. Although Josiah will be assisting me with guitar parts for the new album.
Summon: And where do the lyric ideas come from?
George: My lyrics are inspired by my hatred of religion in general, making a mockery of the Judeo-Christian society at large with touches of folklore here and there.
Summon: What is your view in Satanism and Occultism?
George: To me Satanism is just another extension of occultism, which existed long before the advent of Judeo-Christianity. I am not into the occult myself though and prefer nihilism as my philosophy instead of worrying about what happens after my existence has ended.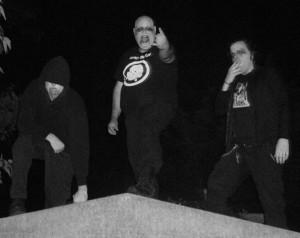 Summon: How many albums/CD's have you released?
Lawrence: We released two studio full length CD's so far. The first "Beyond the Grave" was independently produced and the second "Cryptic Communications" was released under HPGD Productions in Philadelphia. We also made 3 promotional demos. One for each Full length. We made about 100 copies of each as free samples of the full length CD's before they came out so we could hand them out to people at shows. The promo demo for "Beyond the Grave" actually came after the Full length because at the time we didn't have any intention on playing shows.
Summon: Tell me about some the songs on the latest CD?
George: Well, the most popular one, Embracing The Forbidden Arts, on the surface, seems to talk about your usual ritual succubi possession, but beneath the surface, it really is about gaining freedom from the constraints that religion and society places upon those of weak minds. Another popular track from this is called Hymnal Choirs Perishing and it speaks of the narrow mind of the typical "follower" of religion, and how eventually he or she will fall from their stupidity.
Summon: Do you have any side projects?
George: My main project is Decieverion in which I play guitar and do vocals. That band is more of a nihilist based black metal and my personal vision, and with Shadows the lyrics are more broad based in blasphemy and religious mockery.
Summon: Who are some of your musical influences?
George: A lot of my experiences are more based in 90's old school black/death metal, mainly the Norwegian style of Mayhem/Darkthrone/Satyricon/Obtained Enslavement. But these days, I listen to anything that is obscure also, including stuff like Death In June and Dargaard.
Summon: Which current bands?
George: US black metal like Woe, Kult Ov Azazel, Krieg, Bahimiron, and some others. But Philadelphia has spawned some killer bands that have thought outside of the box like Sadgiqacea, Ominous Black, Hivelords, Burden, to name a few.
Summon: What is the band like when you play live?
George: I have only done one gig with Shadows so far, so it's hard to describe. But let's just say that people enjoy what we do so far.
Summon: Have you guys ever played in another country?
George: Nope, but would love to someday, especially all of the European countries.
Summon: How big of crowd shows up at shows usually?
George: Last time we played we had a decent sized crowd of about 40-50 show up, and for the place we played at, it was pretty awesome.
Summon: How is the crowd response when you play?
George: They seemed to really be into what we do, and I'm glad, because without them, I would not be doing this in the first place.
Summon: What do you think of the US Black Metal/Death Metal scene?
George: The US Black/Death metal scene for as old as it is still needs to evolve in my opinion, because of the mentality of those that infest it from time to time. We truly do not understand that black metal especially is an art form to be respected and feared, not whored out like a product on TV. I myself have been involved for 10+ years and have seen trends come and go, and a lot of the never bands like Wolves In The Throne Room and Liturgy may go over well with the "hipster" crowd, but they do not sit well with me. A lot of the newer bands have adopted the idea of making black metal a marketable item and more friendlier, instead of keeping black metal mysterious, dark, and more about the negative emotions of man. This is not acceptable. Black metal is a combination of music and ideology that speaks against the society that religion created and the eventual end of life on Earth.
Summon: What do you think of the Overseas scenes?
George: The complete opposite of the US. Metal is more of an artistic expression, especially in Europe. People over there give more respect and more of a viable ear to the extreme bands.
Summon: What are some of new favorite black metal/death metal bands?
George: US black metal like Woe, Kult Ov Azazel, Krieg, Bahimiron, and some others. But Philadelphia has spawned some killer bands that have thought outside of the box like Sadgiqacea, Ominous Black, Hivelords, Burden, to name a few.
Summon: When do you guys plan on writing any new material?
George: Already working on new material for a new release to be called "The Great Apocalyptic Storm"…
Summon: What does the future hold for the band??
George: More blood, more blasphemy, and more black metal!
Contact them at:
https://www.facebook.com/shadowsinthecrypt
http://shadowsinthecrypt.bandcamp.com/