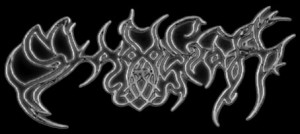 Shadowcraft
"Principles of Chaos"
2013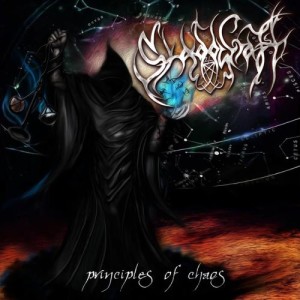 Hailing from Greece, symphonic black metal act, Shadowcraft debut with their first album Principles of Chaos.

Right from the start, I knew this album was going to be long. The three minute intro provided little buildup to the actual album other than some confusion with the flow into the next song. The title track is probably one of the strongest songs on the album. It's a solid track that shows off their potential and doesn't bore. However, I can't say as much for the rest of the album. The production doesn't lack, every instrument has its place in the mix. The vocals are solid as well, but there's nothing really captivating about this album as a whole. With some good riffs thrown into each song, Principles of Chaos isn't necessarily a bad album; it just lacks an edge that really grabs this listener.

The keyboard aspects of this album should be acknowledged since this is a symphonic black metal band. Most of the time the keyboards aren't layered too much; with one voice usually playing over the rest of the music accompanied by the occasional melody. The flute parts in 'The Light of Apollo' seemed a bit out of place with the rest of the keyboards main use in this album.

The guitar work is well executed throughout the whole album, but varies little as well. Guitarists Amethyst and MF know what they're doing but seem to stick to one style of playing throughout the album which fuses most of the riffs together and leaves little differentiation between songs.
On a whole, Shadowcraft released a consistent album that does the job but also leaves the listener expecting a more from them. As a first release, they did well but could definitely use some work in creating more attention grabbing songs.

Along with the title track Principles of Chaos; the tracks 'A Brotherhood Betrayed' and 'Transcending Into Infinite Aeons' are the strongest tracks on the album.

Tracklist:
1. Aeons Passed On…
2. Principles of Chaos
3. A Brotherhood Betrayed
4. The Light of Apollo
5. Burning Sun Pt 1: Ascending…
6. Burning Sun Pt 2: I Bringer of Plagues and Suffering
7. Red Moon Above the Enemy
8. The Chamber of Eyes
9. A Path
10. Transcending into Infinite Aeons
11. Wrath of Celestial Daemons
https://www.facebook.com/ShadowcraftBand
Members:
Michael – Drums
MF- Rhythm guitars
Q_Snc – Keyboards
Amethyst – Lead Guitars
Pyrphoros – Vocals
Dis_ – Bass

Rating: 7 out of 10
~Krondor