Serpentyne
The Serpent's Kiss
11 Track Album
Polymath PR
Release Date: 13th January 2017
A truly magical experience!
Serpentyne – London, UK
Links:
https://www.facebook.com/Serpentynemusic
Genre: Symphonic Folk Metal with medieval music influences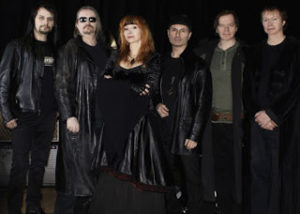 Not myth just pure legend – Serpentyne
Biography:
"Serpentyne were formed in 2010 by Maggie Beth Sands and Mark Powell. That year they released their first album, "Stella Splendens," based on medieval music and mythic themes, featuring Maggie Beth's vocals and Mark's hurdy-gurdy. 2014 saw the release of "Myths and Muses." Which added world and dance music elements to the band's sound. The third album, "The Serpent's Kiss," is a change of direction for the band, still in keeping with their mythic themes of earlier albums, but presenting the music in a symphonic rock context!"
~~~~~~~~~~
As if playing the hurdy-gurdy and singing about myths and legends isn't enough Serpentyne have now taken on a slightly new direction using a symphonic rock to guide them on their way. Having reviewed their second album "Myths and Muses," last May, and experiencing something wonderful and so expressive I had to give the album a score of ten because it was so fresh and unique, and the use of such unusual instruments being played so beautifully certainly, had me gripped throughout the album. Now with baited breath, I am getting the chance to hear the band's third album, the wonderfully inspired Serpent's Kiss and wondering if it can beat their second!
Starting off with Spirits of the Desert I can safely say the goose-bumps are working overtime as the music, so symphonically bounces with creative juices along with Maggie Beth's haunting lyrical voice. It is most definitely a dream theatre as the whole sound envelops the senses and brings a new aspect to the word medieval.
——————————————————————————————-
"One could be forgiven for thinking that these musicians are actually reincarnated from medieval times as everything is done to sheer perfection that only a King or Queen would demand!"
——————————————————————————————-
The second track The Dark Queen is very majestic and haunting with its organic and rural feel as the track opens. It hits like icy shards of rain. This was the track I clicked on a few days ago and was completed flummoxed by its magical spell. Once heard this track won't be forgotten and neither will the video that accompanies it. Maggie Beth's angelic voice will haunt your dreams forever!
Helen of Troy clearly possesses a darker edge with the superb use of instruments that gives it a bristling, catchy anthemic roar that simply attacks the senses and ignites already soaring flames. It is fresh and beguiling with heaps of passion for backing it up.
Even darker and certainly more predatory is the formidable track Jeanne d'Arc it casts a dark magic with resounding ambience and once more another track bounces with rippling hooks and grooves that want to dance. It's perpetually exciting and eager to please the ears and deliciously flirtatious and magnificent!
Lammas Night sounds like it is giving the hurdy-gurdy a run for its money although half of the unusual musical instruments I can't even pronounce let alone know what they sound like, however, it is clear that Serpentyne know what they are doing and do it with utter confidence. A very captivating and I would go as far to say an exceptional track indeed.
The Serpent's Kiss the band's title track sounds slightly eastern in flavour which adds yet another string to their bow. Each track is a welcome surprise because you never know what you are going to hear next. Slower paced, it still manages to utilise your goose bumps to the max!
Bass hooks galore with a feverish bounce and awesome medieval flavour Saltarello magically adds potency to the mix and is a supersonic instrumental that rages with passion, embarking on a full-on compelling seduction! Hard not to tap your feet or fingers to this, it is pure magic!
Viking Blood opens with the sound of pouring rain and a lavish rhythm that carries the ears to distant times. Nigel takes to the vocals written by Mark Jenkins for this track, telling a thrilling story of Viking shenanigans to some powerful electric frets by Matt Damian with great use of extra sounds which is more than fitting for this mighty saga.
Brigantia invades the audial with a predatory vault, kicking back with bristling melodies that involve the listener as they get sucked more and more into the fantastic union of simmering emotion and splendour of such an infectious undercurrent of rhythms.
Morrighan's Jig what can I say but it just makes you want to get up and dance the day/night away! Highly infectious and addictive it flurries with an abundance of melodies and emotional fever, very absorbing and seductive!
Game of Thrones not that I know much if anything about Game of Thrones, and nor do I want to, but this passage is all engaging and simmers with musical conformity. Its lilting flames are rich in good vibes and co-operate well with the aural cavities so much so that when it ends you want the experience it brings all over again.
Summary:
Serpentyne are the band that keep on giving and reward with the seduction of unusual instruments played to perfection and also sung with high esteem.
Each track brings new and exciting stories to the imagination and simply involves the listener in so many ways other than creative thinking but implores the body to react to the delicious sounds that befall the listening devices.
One could be forgiven for thinking that these musicians are actually reincarnated from medieval times as everything is done to sheer perfection that only a King or Queen would demand.
I never thought the band could go one better than 'Myths and Muses' but they have exceeded that goal just by adding a symphonic sound which makes all the difference.
I am truly hooked on Serpentyne's magic. I hate it when a track ends and love it when a new one starts. Each one is a gem of emotional turbulence and passionate spirit, with a sprinkling of melancholy, however, short-lived, and obviously more rousing but it is still one hell of an album – hold on to your feet because this album will run away with them, for sure!
"Compelling and beautiful!"
10/10
Track List:
Spirits of the Desert
The Dark Queen
Helen of Troy
Jeanne d'Arc
Lammas Night
The Serpent's Kiss
Saltarello
Viking Blood
Brigantia
Morrighan's Jig
Game of Thrones
Members:
Maggiebeth Sand – Nyckelharpa, Vocals
Mark Powell – Hurdy-Gurdy
Matthew Damian – Electric Guitar
Mark Jenkins – Keyboards
Nigel Middleton – Bass & Lead Vocals
John Haithwaite – Drums & Vocals