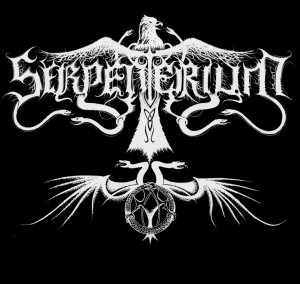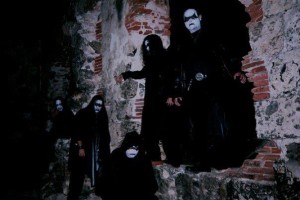 Summon: How did the band get started?
Band: At beginning of 1996 we had the opportunity to buy instruments that some of our friends were selling and by April of that same year we started writing our first songs. After a few line-up changes and a shift in the musical direction of the band, everything solidified into what became Serpenterium.
Summon: What kind of music do you play?
Band: We play Black Metal with various seeping influences from other sub-genres of Metal and classical music.
Summon: How has the fan response been?
Band: The response has been good! We've release various demos and a full-length album that have all been well-received. Our live shows, while few and far between, are always filled with great audiences who seem to enjoy what we do.
Summon: Where did the band name come from?
Band: At first the band was called Malignacy and was more in a Death/Black Metal vein, but we wanted a darker sound. We incorporated keyboards and went in a more straight Black Metal direction. Because of this, we started to search for a name that symbolizes the concept that we represent. This is where the serpent comes in, representing the dual expression of good and evil, rebirth, transformation, immortality, and wisdom. Serpenterium, a place of serpents, represents all of that.
Summon: Introduce the band members and what they do in the band.
Arnaldo – Vocals/Guitar
Luis – Drums/Backing Vocals
Jose – Guitar/Backing Vocals
Javier – Bass/Backing Vocals
Elliott – Keyboards/Backing Vocals
Summon: Who writes the music? Lyrics?
Band: We all write music. As for the lyrics, sometimes Arnaldo comes in with an idea and we all start from there, adding our input. Then we make the arrangements together.
Summon: And where do the lyric ideas come from?
Band: Lyric ideas come from personal experiences, our various beliefs within the band, our interest in history, and our everyday lives.
Summon: What is your view in Satanism and Occultism?
Band: They are interesting subjects with similar concepts and views. But belief, for us, must be a more personal matter.
Summon: How many albums/CD's have you released?
Band: We have a full-length album, The Withered Spirit of a Shattered Reality, and 6 demos. Right now we are finishing a new recording of older, never before released songs. After that we will start recording a new full-length hopefully this summer.
Summon: Tell me about some the songs on the latest CD?
Band: The song arrangements, as well as the lyrical concepts, are more complex. You will hear the progression of the band without compromising what we are known for: aggressive, fast, and melodic music.
Summon: Do you have any side projects?
Band: Yes, but right now we are concentrated on Serpenterium. When the time is right they will come alive. They are quite different from our main band.
Summon: Who are some of your musical influences?
Band: We have varied influences, from classical music composers like Villa Lobos and Isaac Albeniz to many bands of all Metal sub-genres. A lot of other art and literature influences our work as well; anything that evokes strong emotion in us.
Summon: Which current bands?
Band: Emperor, Abigor, Dissection, Sacramentum, Dawn, Immortal, Tartaros, old Ulver, old Satyricon, old Mayhem, Setherial, Iron Maiden, Metallica, Kreator, Morbid Angel, Deicide… The list goes on.
Summon: What is the band like when you play live?
Band: We try to be as intense as possible. Like I said before, our shows may be few and far between, but we give it everything we have when we get the chance to play live. Every show must be as memorable or more than the last.
Summon: Have you guys ever played in another country?
Band: Not yet. We had an opportunity when we released our full-length to tour with God Dethroned in Europe, but we didn't have any record label to support us. So if we wanted to do it we would've had to pay for everything out of our own pockets, which was just impossible at the time. We really the hope the opportunity presents itself to us again soon enough.
Summon: How big of crowd shows up at shows usually?
Band: Our local scene is small in comparison to other countries, but it is growing every day. The kinds of shows and big crowds we have today were very rare as little as 10-15 years ago. Hopefully, it'll only keep getting bigger years from now.
Summon: How is the crowd response when you play?
Band: The response is good and when we play some covers the crowd response is more intense due to us covering bands that no one else does locally.
Summon: What do you think of the US Black Metal/Death Metal scene?
Band: The US Death Metal has been quite strong for a long time. Band favorites include bands like Morbid Angel, Malevolent Creation, Suffocation , Deicide, Obituary . US Black Metal, while a smaller scene, keeps getting stronger with some class acts like Kult ov Azazel and the mighty Absu.
Summon: What do you think of the Overseas scenes?
Band: Overseas Metal scenes are certainly much larger, with bigger followings and amazing festivals. Still, every country you can think of, no matter how small, will have some sort of local extreme music scene, which is something we respect a lot. It's something that will always be there.
Summon: 20. What are some of new favorite black metal/death metal bands?
Band: Current favorites: Deaf heaven, Nontinuum, FleshGod Apocalypse, and December Flower.
Summon: When do you guys plan on writing any new material?
Band: As soon as we finish all recordings for our upcoming albums we will start working on new material. Right now we have some very interesting riffs stored, so the next writing process will be quite exciting.
Summon: What does the future hold for the band??
Band: We will continue doing what we like, how we like it, whenever possible. Also, we hope to play in a couple of other countries soon enough, as well as putting out the previously mentioned recordings. Serpenterium has always done things on our own terms, and if any opportunities that fit with our vision present themselves, we'll keep going for as long as we can.
Contact them at:
http://www.facebook.com/Serpenterium.band
http://www.reverbnation.com/serpenterium