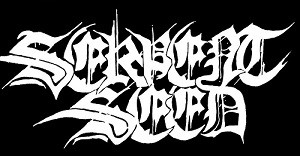 Serpent Seed
"Debris of Faith"
2014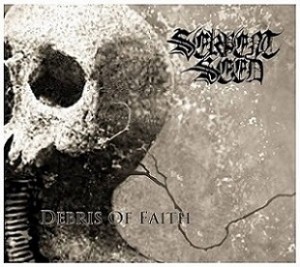 This band keeps strengthening the powerful polish scene in Black Metal. Their music is a perfect blend of rhythm and dissonant riffs which create an atmosphere of uneasiness. Indeed this is one of the few bends I heard recently which blended sound and music in a formula which makes the whole things sound truly evil. It's not easy to describe but the whole release seems to be recorded in a very cold hell and the vocals have an uncanny element in their tonality, like an aura of desperation. And the percussion is there accompanying the music adds very well to the overall atmosphere.
I have to admit that this will not be the way I would mix an album but it works for these guys very well. And despite the very underground feel to the mix, the guitars are clear enough and even the drums still hint at professional recording. And the whole mix is not thin and yet not excessively muddy.
The artwork is rather minimal, in a distinct contrast from the band's logo. Looks like somebody strapped a gasmask underneath a skull. It emanates a misanthropic feel to it which makes sense considering the band's tracklisting. It's the kind of artwork which would pique my interest while browsing in a record shop.
Will I listen to it again? Definitely, I will do. This release has been out for a while now, but in retrospect I would put it in one of the great list of releases from that year, and even nowadays. It is not your typical black metal band, and the death metal influences do not override the whole feel of the album. Definitely worth a listening, over and over.
Favourite track is 2. That track is awesome.
Tracklist:
1. Demon's Blade
2. I Spit on Your Cross
3. Mother Night
4. Plonie stos
5. Unholy Trinity
6. Serpent Seed
7. Bloody Vengeance
https://www.facebook.com/pages/Serpent-Seed/706607769433831
Members:
Aryman – guitars/vocals
Jatssa – guitars
Jakub – bass
Wojtass – drums
Rating: 8 out of 10
~Carnivean