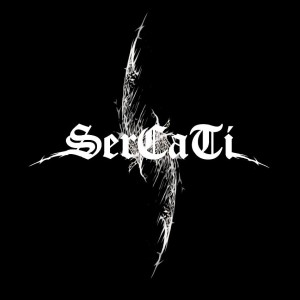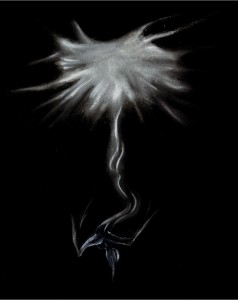 Summon: How did the band get started?
Steve: It started back in 2009, with some jams between Steve and 2 other friends. From those came 2 demos. When asked by Carlo Bellotti to record an album, the band took on Yannick for drums. Then we went to Mathlab Studio Prato in July 2010 to record the 1st full length of the band.
Summon: What kind of music do you play?
Steve: Depending on the reviewer, it goes from melodic black metal to progressive black or atmospheric. Some also mention dark metal, although we don't really know why.
Summon: How has the fan response been?
Steve: Sercati's efficient in concert. People quickly get in the mood. For the albums, we get great feedback's from all around (reviews or just messages on fb). People touched by this musical style are not many, but they are faithful followers.
Summon: Where did the band name come from?
Steve: It refers to "Dalmatian Dawn" (Zora Dalmatinska in Croatian), a literary journal from the XIX° century. We've found it at random, and taken some words out of it. The whole paragraph says "Nasa serca ti uxexi, I s ljubavlju nijh zavexi, Da svi mirno mi xivemo, Kako Bracha da budemo".
Summon: Introduce the band members and what they do in the band.
Steve "Serpent" Fabry: Bass – Lead vocals
Yannick Martin: Drums – vocals – some acoustic guitars
Simon Charlier: Guitars
Olivier Clément: Guitars
special guest: Boss loop station for some keyboards 😉
Summon: Who writes the music? Lyrics?
Steve: Most of the musics are written by Steve with few exceptions for Yannick. As the band started, we thought it was the best way to keep coherence. Now, for the lyrics, they are shared between Steve and Yannick, depending on the atmosphere we want, the character speaking…
Summon: And where do the lyric ideas come from?
Steve: We just talked about characters… Indeed, the different albums are part of the same story. This one takes place in a particular city, and tells about a fallen angel fighting apocalypse. The subject is not religious at all, but we use christian mythology as a backdrop for the events. The hero is quite a complicated character : being an angel, he stands as a defender of justice, like a comics super hero would do. But as a complete stranger to human race, he's often victim of the circumstances, he gets confused. We developed the story while recording our 1st album. Then Steve pushed it further by writing novels about it and publishing a book. Now the written story has gone much further, so we model new songs on the existing novels.
Summon: What is your view in Satanism and Occultism?
Steve: We think that most of the time, Satanism and Occultism are not well understood. We don't talk about it in our songs, but we got to use them to create the universe of the story. Doing this, one can see that there's more about satanism than drawing pentacles or drinking blood (seriously??). We think a bit like Peter Gilmore : there's no god and no Satan (as creatures). It's more about getting free to enjoy life, yet being aware of responsibilities.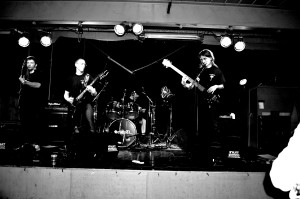 Summon: How many albums/CD's have you released?
Steve: 2 full length (Tales of the fallen part 1 – The Rise and the Nightstalker) 1 EP (In the shadows of sidewalks).
Summon: Tell me about some the songs on the latest CD?
Steve: The last release was the EP. The aim of the 4 songs is to introduce to the listener the city and new characters.
Summon: Do you have any side projects?
Steve: Using the same universe, there's "The Nightstalker", Steve's more personal project. While Sercati focuses on the action, The Nightstalker focuses on the characters psychology.
Summon: Who are some of your musical influences?
Yannick: Progressive metal & rock, also hard rock.
Simon: Many styles, but some very specific metal bands also.
Steve: Black metal and pagan metal.
Summon: Which current bands?
Simon: Rage against the machine – System of a down.
Yannick: Pain of salvation – Devin Townsend.
Steve: Satanic warmaster – Minas morgul – Lost legacy.
Summon: What is the band like when you play live?
Steve: We try to pass the atmosphere on to the people. We always have to work on it, cause it's not just about playing music… We'd really like people to project themselves into the universe of the story. Some ideas have come up. Now we shall develop them.
Summon: Have you guys ever played in another country?
Steve: Not yet, although we had the opportunity twice. We hope to do it soon.
Summon: How big of crowd shows up at shows usually?
Steve: No idea, but you know… never enough. Black metal scene is so small in Belgium!
Summon: How is the crowd response when you play?
Steve: Usually great. Because there's a whole creation behind the songs, and because of the melody. This allows people who never listen to metal to enjoy the show.
Summon: What do you think of the US Black Metal/Death Metal scene?
Steve: There are major bands (Judas Iscariot, Inquisition…), and it's great to have them coming sometimes to Europe. Maybe the ones we shall convince are more Scandinavian and eastern Europe metal fans.
Summon: What do you think of the Overseas scenes?
Steve: What are some of new favorite black metal/death metal bands?
Summon: When do you guys plan on writing any new material?
Steve: For now, we work on the 3rd full length. So it's right now!
Summon: What does the future hold for the band??
Steve: The 3rd album… although we can't tell yet when it will come. Now we'd like to focus on scenography; it's an important part and we still have a lot to do.
Contact them at:
https://www.facebook.com/Sercati/
https://www.reverbnation.com/sercati