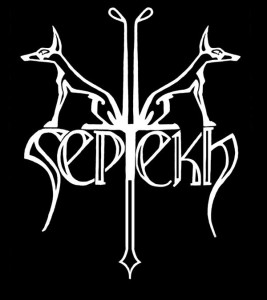 Septekh
"Plan for World Domination"
2014
After listening to their first, EP Apollonian Eyes I had high hopes for this band and this album. They had a massive bar to fill after what they delivered in the last E.P. And yes, yes and yes did they did that. Their album was out of this world so weird, so odd and yet so so metal. Brutal vocals again, instrument not failing to keep me excited again. What I liked a lot about this album was the variety, not one song sounded the same. It was like going to a freak show! I mean this in the best way possible. Every song on the album had its own weird, odd and brutal feel to it. The way they blended was great. The boys have raised the bar and come out with a beautiful, odd and brutal album here. Some bands bring out a few good songs and then I find there albums filled with "filler", not these guys every song is unique and interesting. One thing I can't do is explain the kinda music these guys play, I mean it's very death metal, yet a bit thrashy, it's odd, in the best way possible. I can honestly say these guys are now considered one of my favorite bands! \m/ \m/ and the Art work, just as odd and brutal as the music.
I recommend, let me re phrase that……
I highly recommend giving these guys a listen… For the full experience you need to start from Apollonian Eyes EP and make your way to Plan for World Domination. This great bundle of odd freakish metal will only be found in there music…. It is one of a kind!
Words can't describe this one, I suggest stopping by their facebook page and checking it out for yourself. I promise you wont be disappointing.
Welcome to Septekh….. I can't wait to hear more guys!
Tracklist:
1. Into the Void of My Mind
2. Goin' down in Style
3. Saving Graces
4. Neanderthal
5. Don Asshole
6. Left Handed Man
7. Black Shores
8. The Man Who Died a Million Times
9. Superheated Liquid Iron Core
10. Eyes of the Grave
11. Fuck Dollar
12. Desdaemonia
13. Plan for World Domination
https://www.facebook.com/septekh
Members:
Patrik Ström – Bass
Staffan Persson – Drums
David Wikström – Guitars
Nils Meseke – Vocals
Rating: 10 out of 10, if I could… (I would be giving you an 11/10)
~Adam Morrey
Septekh
"Apollonian Eyes"
2013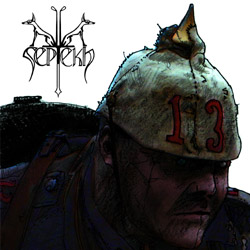 Burn it to the ground!!!!! I have had the honor of doing a review for the band Septekh! And I mean an honor, E.P. Apollonian Eyes. It started great with Apollonian Eyes, a nice Deathly kinda song, vocals great, everything was great then the song finished. Next minute I hear drums…..then guitar feedback starts, then the words. Wake up and Burn it to the ground! All that was missing was a can of gas and a box of matches. I can say I have not felt so alive in years. Songs like this is why I listen to METAL!!! Vocals so diverse! Guitars going hard, drums matching. I felt like I was in a good old fashion mosh pit!!!! These guys have raised the bar, real fuckin' high…. \m/ \m/ Normally I would try to find at least one fault in everything I review. It's good to know what you need to improve on but these guys have hit the spot. No faults I would normally not do this, but I give this album a 10 out of 10. Expect to see these guys in the future cause they are on the road to glory! I don't know what else to say, I'm speechless! Keep it up boys can't wait to see you guys live one day \m/ so we can all. Burn it to the Ground!!!!!
Tracklist:
1. Apollonian Eyes
2. Burn It to the Ground
3. Cursing the Skies
4. Vlad Tepes
https://www.facebook.com/septekh
Members:
Patrik Ström – Bass
Staffan Persson – Drums
David Wikström – Guitars
Nils Meseke – Vocals
Rating: 10 out of 10
~Adam Morrey