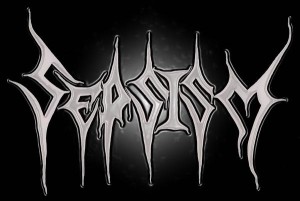 Summon: How did the band get started? How did you meet and how long have you been together?
Fernando: Well Phillip and I have been next door neighbors our whole lives and we used to fuck around with his dad's instruments in the garage. When we finally decided to get serious about playing we formed Sepsism in 1990. We met Marcus and Leon over the years after struggling with past band members who weren't serious about the music.
Summon: How would you describe your music?
Fernando: I would say that our music is very fast and intense and heavy throughout. We try to use different speeds in our music so that our listeners don't get bored.
Summon: What are your biggest musical influences?
Fernando: My personal influences for being in this band are Napalm Death (early) and Carcass (early). I couldn't believe how deep Lee Dorian's vocals were and so I set out to match those vocals.
Summon: Who if, if any do you consider the bands idols?
Fernando: I guess any band that can dish out heavy tunes whether it be a grind core, punk, thrash band etc. would be considered the bands idols.
Summon: What made you want to be in the band? And if you weren't in the band what would you want to be doing now?
Fernando: After making noise with the instruments at Phillip's house for so many years, everything just kind of fell into place. By the time Sepsism was formed I knew that I was into making music and that I wanted people to hear what we were writing. I don't know know what I'd be doing right now if I weren't in the band. I haven't set any other goals for myself. Then again, I might be going to school right now.
Summon: What are some of your favorite bands that are really popular today?
Fernando: I listen to most of the early shit like: Carcass, Napalm Death, Morbid Angel, Terrorizer, Entombed, Bolt Thrower, Deicide etc. I also like some of the newer shit like: Suffocation, Broken Hope, Brutal Truth and Internal Bleeding.
Summon: How many demos/albums do you have? Tell me about them.
Fernando: We have three demos out. The first two are self-titled and both we recorded on 4 trax. They weren't greatly distributed due to lack of cash flow and because of the not so great sound production. Our third demo is titled "Serve Carnal Butchery" and it was recorded in a professional 24 trax studio. The J-card is filled with full color gory pictures throughout and the demo itself has a crushing heavy sound that will punish your ears.
Summon: If you could play with any band who would it be and why?
Fernando: I would like to go back in time when Napalm Death came out with "Mentally Murdered" and play a show with the members at that time. I'm sure that the crowd would go crazy. In my opinion that's when Napalm Death was at it's heaviest.
Summon: Who writes the majority of the music?
Fernando: Everyone makes contributes to the music. In order for a song to be a true Sepsism song we all have to put our ideas into them.
Summon: Who has been the favorite band you've played with? Why?
Fernando: It would probably be Internal Bleeding because we got along with them very well. I had been writing with Frank Rini prior to the show and then we met in person. The crowd was fuckin' raging when they played because it was a long trip over here. I just hope we get a good response when we play in their home town.
Summon: Where did you get the band name from?
Fernando: Phillip came up with the name. It's actually a combination of two words. "Sepsis" is an infection in the blood and "ism" is the suffix meaning the process of. So rather than calling the band Sepsisism he combined it to Sepsism.
Summon: Describe what the band is like live?
Fernando: We sound a lot heavier live than we do on a recording. I guess it's the fact that we're playing in front of people and when we see their reaction it just gets us going. That is why now we possibly can so that they will do us justice when compared to our live performances.
Summon: If you are gonna do any kind of video what would be in it?
Fernando: No Way! No videos for us. They're too fuckin' commercial. But if we get signed and we're forced to make one. And sometimes that is the case. I would just want it to be a live recording and nothing else.
Summon: Are there any tour plans made, if so tell me about them?
Fernando: Nope. Not at the moment. We don't have the money to do it ourselves. This is when getting signed will really help. But until that happens we'll just have to continue doing our thing.
Summon: Where do you think the band will be in 20 years from now?
Fernando: Probably retired. That's a long time for a grind core band to still be in existence. There's no telling where this kind of music will be in 20 years. Only time will tell.
Contact them at:
Sepsism
13017 Kagel Canyon
Pacoima, CA 91331