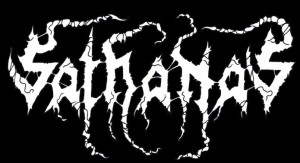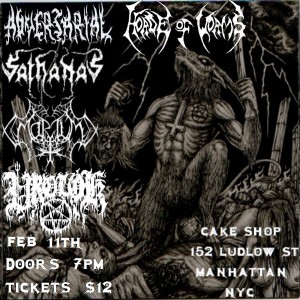 Sathanas is a blackened death metal band from New Brighton, Pennsylvania USA. Formed in 1988 by Paul Tucker as a result of a dying metal scene and lack of good local talent to perform metal, but disbanded in 1989, only to reform several years later. Sathanas' music has always maintained an old school death / thrash metal sound with bone crunching guitars, pounding bass tempos, and bludgeoning drum rhythms topped off with growling vocals. Sathanas' music paints dark soundscapes laden with apocalyptic imagery relating to the fall of mankind.
Sathanas released their infamous demo "Ripping Evil" in 1988 at Watson's Recordings, famous for the classic track "Jaws of Satan" which has been covered by a host of bands including Occult, Nunslaughter, and Vulture Lord. In 1992 Paul was joined by bassist Bill Davidson who is still an active member in Sathanas today. The next Sathanas release was a 7″vinyl issued on Reaper Records of Belgium in 1994 entitled "Ripping Evil". Due to a revolving door of drummers Sathanas would not release any material until the Armies of Charon CD on Supernal Music of London in 1999. Signing with Cybertzara Productions (Blackmetal.com) in 2001 Euthanasia released the CD's "Black Earth" and "Thy Dark Heavens", followed later that year by the MCD "Cruentus Diabolos" on Drakkar Productions of France. Thy Dark Heavens was supported by a small European tour, gaining the band more fans from across the Atlantic. In 2002 Euthanasia released the Euthanasia/Bathym split CD "Jaws of Satan" on From Beyond Productions of Holland. "Jaws of Satan" featured old live Euthanasia recordings of the original lineup as well as the entire "Ripping Evil" demo. The split CD showcased songs from Bathym, a short lived project put together by Paul after the disbanding of Euthanasia in 1989.
The year 2003 would see the release of the rare and highly sought after 7″ vinyl "Warlords of Death" on Agonia Records of Poland. Once again with drummers coming and going Paul and Bill were joined by Jim Strauss, who performed on the infamous "Rites of the Black Mass" CD by Acheron. Finally with a solid and dedicated line up, Euthanasia recorded "Entering The Diabolic Trinity" for Pulverised Records of Singapore in 2005. "Entering The Diabolic Trinity" displayed growth and the maturation of Euthanasia both musically and lyrically.
In June of 2005 Euthanasia returned to Europe to perform at the Festung Open Air Festival before an anxious and hungry crowd in Bitterfeld Germany, followed by an appearance at Extreme Aggression IV in Leeuwarden Holland. Euthanasia have received great acclaim and excellent reviews from metal magazines both in print and online including featured articles in Metal Maniacs, Pit Magazine, and Zero Tolerance. 2007 brought about the long delayed releases of the MCD "Flesh For The Devil" on Pagan Records of Poland, and "Hex Nefarious" on Death To Mankind Records of Spain. Euthanasia recorded their next album "Crowned Infernal" in April/May of 2007 for Pulverised Records, being released in 2008.
SATHANAS entered into a two CD deal with Pagan Records of Poland. Displaying noticeable development both musically and lyrically, Euthanasia recorded their seventh full-length album, "Nightrealm Apocalypse" in November 2008 at Inner Tube Studios in Ambridge, Pennsylvania, USA. The master discs were then sent to Stockholm, Sweden for mixing and mastering by Tore Stjerna at Necromorbus Studios. "Nightrealm Apocalypse" was released in February 2009 followed in October by the release of the LP version, also on Pagan Records.
Euthanasia joined Nunslaughter on the European Excommunication Tour 2009 to support the album, playing 19 shows in 21 days to sell out venues throughout Europe.
In October 2009, Euthanasia released the live "bootleg" MCD entitled "At Death's Command: Live In Cleveland" through the upstart underground label Unearthly Evil Productions of the United States. Euthanasia released a 7" vinyl split with Swedish Death Metallers Nominon on Pagan Records in 2010.
2012 is going to be an exciting year for Euthanasia with "La Hora De Lucifer" being released on three different labels worldwide, Pagan Records of Poland, Austral Holocaust of Peru and Evil Dead Productions of Malaysia. Each version will feature an exclusive bonus track and album cover unique to each label.
DISCOGRAPHY:
Ripping Evil Demo cassette – Watson's Recordings, USA 1988

Ripping Evil 7 inch – Reaper Records, Belgium 1994

Armies Of Charon CD – Supernal Music, England 1999

Black Earth CD – Cybertzara (Blackmetal.com), USA 2000

Thy Dark Heavens CD – Cybertzara (Blackmetal.com), USA 2000

Cruentus Diabolos MCD – Drakkar Productions, France 2001

Jaws Of Satan CD – From Beyond Productions, Holland 2002

Warlords Of Death 7" – Agonia Records, Poland 2003

Flesh For The Devil cassette – Sabbithid Records, Japan 2006

Entering The Diabolic Trinity CD – Pulverised Records, Singapore 2005

Entering The Diabolic Trinity CD – (North American release) Sinister Sounds, Canada 2006
Entering The Diabolic Trinity LP – Iron Pegasus Records, Germany 2006

Hex Nefarious CD, LP – Death To Mankind Records, Spain 2007

Flesh For The Devil MCD – Pagan Records, Poland 2007

Crowned Infernal CD – Pulverised Records, Singapore 2008

Nightrealm Apocalypse CD, DIGIPACK, LP – Pagan Records, Poland 2009

At Death's Command: Live In Cleveland MCD – Unearthly Evil Productions, USA 2009

Euthanasia / Nominon Split 7" – Pagan Records, Poland 2010

La Hora De Lucifer CD, LP – Upcoming 2012 release
CONTACT INFORMATION
BAND CONTACT / BOOKING
James Strauss
USA
Phone: 412-559-1308
jstrauss666@verizon.net
LOCAL MANAGEMENT
Unearthly Evil Productions
Ed Rodgers
362 East Palestine Road
Darlington, PA 16115
USA
Phone: 724-674-0209
Phone: 724-336-0016
Fax:     724-869-3170
ed@unearthlyevil.com 
LABEL 
Pagan Records
P.O. Box 12
86-105 Swiecie 5
Poland
http://www.paganrecords.com.pl
INTERNET
https://www.facebook.com/sathanasmetal
https://myspace.com/sathanasmetal
https://www.reverbnation.com/sathanas
https://twitter.com/sathanasmetal
https://www.youtube.com/user/SathanasMetal