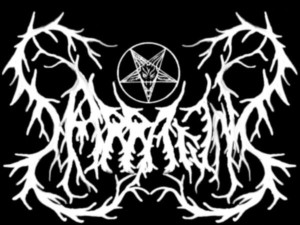 Summon: How did the band get started?
Atilla: The band started when I learned how to record my songs. After a few times of unimportant trying, I recorded the Burning Tree (the first song of the first album), then I saw the black light, an endless source of musical influences.
Summon: What kind of music do you play?
Atilla: We play what we actually want, I can not name it as black metal or death or something like that. I record the guitars and compose a song structure, then I send them to Martin and he makes what he wants, I never ask a single question. So, I think we play some kind of music that fits us.
Summon: How has the fan response been?
Atilla: It is almost always great but I am not interested in reading or hearing about it.
Summon: Where did the band name come from?
Atilla: It comes from a dead language, Akkadian. It simply means Queen.
Summon: Introduce the band members and what they do in the band.
Atilla: Martin Ciappara; Drums
Atilla "Sarrum" Kabak : Guitar, vocals etc.
Summon: Who writes the music? Lyrics?
Atilla: Sarrum writes the guitars and almost all the lyrics. Martin writes all drums and has a lyric on the album Flagellation of a Saint.
Summon: And where do the lyric ideas come from?
Atilla: Mostly the darkness and nightmares that lead me to make music. Actually it is more bloodletting than writing for me.
Summon: What is your view in Satanism and Occultism?
Atilla: From my vision, nowadays satanism is like a pub that plays heavy metal all day, if you are young enough you are dying to be part of it. If you are old enough, you see yourself in a mirror and think how many years you lost in it.
Summon: How many albums/CD's have you released?
Atilla:
Firewell – Full-length 2007

Slave Gods – Split 2008

Magick Rituals IV: The Rune – Split 2008

Old, Cold, Untold – Compilation 2009

Flagellation of a Saint – Full-length 2012
besides, there is a full length album and a demo not released yet.
Summon: Tell me about some the songs on the latest CD?
Atilla: I think all songs in the album speak for themselves, I could tell a lot about them but actually they have 99% direct messages.
Summon: Do you have any side projects?
Atilla: Yes, I also compose music for Sublime Flagellations, Sebus Veutgiryn, Black Vulture, Lustre.
Summon: Who are some of your musical influences?
Atilla: First of all, Emperor and Darkthrone are my main influences about playing black metal but generally I am a big fan of Marty Friedman as Martin is a very mad fan of Queen.
Summon: Which current bands?
Atilla: For Sarratum I don't have any current bands as influence.
Summon: What is the band like when you play live?
Atilla: There is no live show yet and not in the future plans.
Summon: What do you think of the US Black Metal/Death Metal scene?
Atilla: Personally nowadays I mostly listen to US Black Metal. Bands like Black Witchery, Blood Storm, Gorephobia, Absu, Judas Iscariot, Krieg etc etc. Actually I don't give a fuck where the band is from. If it fits my musical needs, I don't wanna know which country they were born or choose to live. But when I take a look at my collection, it seems I am a great fan of US Black Metal.
Summon: What do you think of the Overseas scenes?
Atilla: For me, black metal has no country no overseas no lands no trends. It is out there if you enjoy the music and the message.
Summon: What are some of new favorite black metal/death metal bands?
Atilla: Mgla, Ritual Combat, Vemod, Mare .. these are the last bands I enjoy listening this week.
Summon: When do you guys plan on writing any new material?
Atilla: I have so much material to make a Sarratum album, actually they are all waiting for my laziness to shape an album.
Summon: What does the future hold for the band??
Atilla: For now, there is no new Sarratum music to release in my schedule. For the future there is nothing impossible.
Contact them at:
http://www.facebook.com/pages/Sarratum/200795553382730
http://www.myspace.com/sarratum