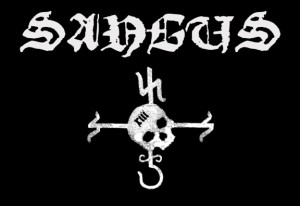 Summon: How did the band get started?
Vovk: The band got started by Vovk and Executioner who first played music together starting in 1996.  The 2 got together with the intention of continuing and improving upon the musical collaborations they made as teenagers in an earlier band.  All members have been active musicians since the 90's and currently play in other projects as well.
Summon: What kind of music do you play?
Vovk: We play Black Crusted Death Thrash.
Summon: How has the fan response been?
Vovk: Thus far we have enjoyed an overwhelmingly positive response by audiences to our music and performance.  It is very encouraging to create music so personal and to have it so strongly embraced by others.  We are very pleased with the fan response.
Summon: Where did the band name come from?
Vovk: The band is based in Providence, Rhode Island in northeast United States.
Summon: Introduce the band members and what they do in the band.
Vovk – Vocals
Executioner – Drums
Barbarian – Guitars
DB – Guitars
Czarnobog – Bass Guitars
Summon: Who writes the music? Lyrics?
Vovk: All music and lyrics are written by SANGUS.
Summon: And where do the lyric ideas come from?
Vovk: Lyrical concepts are inspired by a variety of influential sources.  Life experiences, sociological ideologies, spiritual consciousness, theosophical studies, social phenomena.  Dominate themes in our lyrical content are misanthropy, San Caino worship, Gnostic Luciferianism, violence, spiritual consciousness, and omnicide.  We also incorporate linguistic dynamics to our lyrics.  Our lyrics presently are about half in English, and half in Italian, with occasional Latin.  Often switching back and forth in the same song.  We further intend to write in more languages related to the ethnic ancestry of the band members.  Considering this, you may expect to hear in future lyrics:  Ukrainian, Portuguese, Polish, and Norwegian. 
Summon: What is your view in Satanism and Occultism?
Vovk: Satanism and Occultism mean many different things for different people. We do not believe it is appropriate for us to attempt to define these terms for others.  It is, however, of recent times a strong trend of superficial Satanism;  "Sticker-club Satanists", if you will.  It is the wish of Sangus Legio to be recognized as 1%ers in the Satanic Metal underground.  In other words, we are true believers.  We practice our own interpretation of spirituality related to these concepts.  And for the sake of this distinction we will offer this humble explanation: Satanas is the Universal Law; our God; the Great Light Within the Darkness Beyond This World.  We worship He. Occultism is the Tradition; The Way of those of Our Kind who have come before us and marked The Path of our Liberation.  We practice thus. Lucifer is our Lord and Savior; our highest Buddha. San Caino is our exalted Saint; our Beloved Martyr and the Father of our Blood of Fire.
Summon: How many albums/CD's have you released?
Vovk: We have now released 2 demo tapes.  1)  "Vengeful Brutality" 3 song tracked studio demo from early 3 piece lineup.  2)  "Rehearsal Demos MMXIII" 4 song live recorded from rehearsal space.  Both are available as free downloads on our bandcamp site.  "Vengeful Brutality" is also available as physical cassette tape with download card released by our own FORZAMORTE label.
Summon: Tell me about some the songs on the latest CD?
Vovk: The latest material from our Rehearsal Demos MMXIII well represent the noisier, stronger direction of the now 5-piece lineup.  We are striving with each song we write to create something ever more aggressive, more fearsome, more violent, more exhilarating, more powerful, and more empowering.  
Summon: Do you have any side projects?
Vovk: Other active projects featuring members of Sangus are:  Haxen (HXN), I-Destroyer, & Rampant Decay. Select disbanded projects which featured members of Sangus are:  Paindriver, Sin of Angels, Nachzehrer, & Suffering Bastard.
Summon: Who are some of your musical influences?
Vovk: Our strongest musical influences are SARCÓFAGO, IMPALED NAZARENE, KURO, SHITLICKERS, & GAUZE.
Summon: What is the band like when you play live?
Vovk: Like the Lions of Lucifer let out into the great Roman coliseum to ravage and slaughter the mortals of the deceitful creation.  High energy, unbridled aggression.
Summon: Have you guys ever played in another country?
Vovk: Not yet.  We as musicians of other projects have in fact played abroad.  Sangus has not yet traveled beyond the US borders.
Summon: How big of crowd shows up at shows usually?
Vovk: We are currently playing in the circuit of under 200 capacity venues.  This has been met with great success within the first 2 years of our existence, playing live only since May of 2013.  We hope to have the opportunity to play for ever increasing crowd sizes.  We have been able to attract increasing numbers at our gigs regionally.
Summon: How is the crowd response when you play?
Vovk: Very energetic.  We project an aggressive energy similar to that of hardcore punk of the 80's.  This has been well reciprocated by the audiences we gather.  Members of Sangus routinely enter the crowd while performing and engage the mutual thrashing of bodies.  Sangus Vivo is about collectively gathering the energy of the band and the audience and turning that into something greater and bigger than any one individual present.  That is the LEGIO.
Summon: What do you think of the US Black Metal/Death Metal scene?
Vovk: We are all longtime active in this scene.  Like any scene, the real good bands and people are rare amongst the masses, but the US has some great stuff happening and we are proud to be a part of it.
Summon: What do you think of the Overseas scenes?
Vovk: Any scene of extreme underground metal is supported by us, no matter where.  We are very pleased to be familiar with the scenes of foreign countries.  Specifically, the scenes of South America, Eastern & Southern Europe, and the Middle East.  All of these regions have produced some great, aggressive extreme music.  We would very much like to share our music and tour to these and all countries that would have us.
Summon: When do you guys plan on writing any new material?
Vovk: We are currently writing more material for a recording session with Godcity Salem scheduled for late February 2014.  From that session, we plan to self-release a full length album in the summer of '14.
Summon: What does the future hold for the band??
Vovk: We know not what the future may hold for us, but for the future, we hold UNRELENTING BLACK CRUSTED DEATH THRASH and the VEHEMENT GLORIFICATION OF OUR LORD LUCIFERO.
Thank you Altara Blakthorne!!  Grazie mille per il vostro sostegno!!  Ave Satanas!!  Salve Sangus!!
Contact them at:
https://www.facebook.com/pages/Sangus-Legio/494864457231431