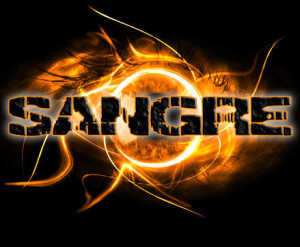 Sangre
"Atonement"
2015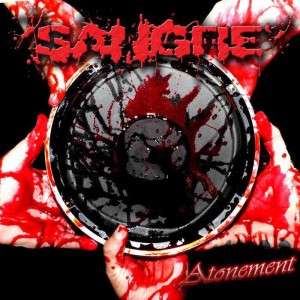 It's been a while since I've heard a groove metal band. It's been even longer since I've enjoyed listening to one too. Sangre is the Spanish word for blood, and the themes deal with rather negative feeling which usually surrounds the underdog. The music complements this, but it's skilled, even groovy without sacrificing the 'metal' aspect in their songs. The songs go from catchy to insanely fast, and they never bore you.
The album sounds good, well balanced with raspy vocals which are angry and effective in their task to boost the music's anger. The drums are punchy and every hit throbs your ears. I'm not too keen with the sound on the higher notes on the guitar, but it's easy to overlook, especially when lower notes have a good tone to them
The album cover is quite original; at least I haven't seen something like this for quite a while, if at all. The overflow of blood is apt for the band name. And it's over a speaker? Awesome! The album bleeds your ears so this is very fitting. Kudos, seriously.
Will I listen to it again? Honestly I didn't have time to sit down and write anything recently, but I did listen to this EP over and over whenever I'm traveling. It's good and doesn't get dull even after several repeats. A recommended listen no doubt, even if it is not exactly your style. After all there's a good root of thrash metal in it, along with other musical elements, which makes the release quite well rounded for all listeners. At the very least you can turn that album cover into a great poster.
Tracklist:
1. Endless Battle
2. BottomFeeder
3. Self Destructive Destiny
4. Roadkill
5. Blossom
6. Matando Gueros (Brujeria cover)
Favorite track is #2
https://www.facebook.com/sangremetal
Members:
Danny Perez – Bass
Josh "Roach" Durante – Drums
Mike Reyes – Guitars
Anthony Ibarra – Guitars
Henry Sanchez – Vocals

Rating: 8 out of 10
~Carnivean