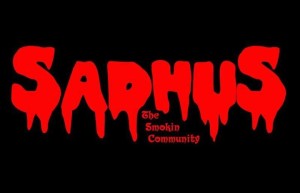 Sadhus, The Smoking Community is a sludge band from Athens, Greece. They were formed in the summer of 2008. Since then, they compose their heavy material and have played a lot of live shows with many local and foreign bands such as Suma, Sardonis, Maya Mountains, Stonebride, Toner Low, 1000mods, Lucky Funeral and many more.
They are known for their high gain and high energy gigs, but also for the meditating gatherings and jamming sessions that take place at their studio.
In June 2013, they transformed their rehearsal room into a recording studio, with the precious help of their sound engineer George Leodis, in order to record their first album. George Leodis (1000mods, Lucky Funeral) also took care of the mixing process and Brat Boatright (High on Fire, Sleep, Graves at Sea, Converge, Stephen O'Malley, Sarabante) took care of the mastering at Audiosiege studio (Portland, Oregon, USA).
The artwork of the album was created by ADMC07 & Luthien Price (GR), while Fuzz Ink. hand-printed all the covers.
The Community is now ready to spread the album to the world, playing gigs and sending promo stuff at every corner of the planet!
DISCOGRAPHY
Foondamentalist
(2011) Single Track (recorded for "Miss Fortune Was A Henhouse Manager" compilation)
s/t (2014) LP
LINE UP
Stavros vocals
Thomas G. guitars
Nikos bass
Greg drums
Steve rolling engineer
PRESS
"Sadhus are one of the most heavy bands of the Greek land! Torturers of feelings!"
"They play like there is no tomorrow, heads down, eyes shining.. Well done!"
(www.castingstone.blogspot.gr)
"Their sound and music contains something cult and spiritual. Sadhus have a large future in front of them." (www.metalpaths.com)
"A guitarist in satanic shape spreads tons of riffs like a huge truck with copartners
a brilliant drummer and a voice full of the sickness of Bongzilla and Iron Monkey."
LINKS
Facebook: https://www.facebook.com/SadhusCommunity
Bandcamp: http://sadhus.bandcamp.com/
CONTACT: thesmokincommunity@gmail.com