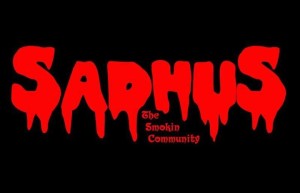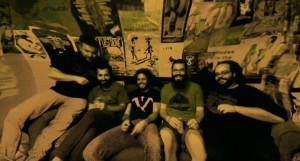 Summon: How did the band get started?
Nick: The band formed during the summer of 2008 as a band of friends who liked jamming sessions and sludge-doom metal-rock music.
Summon: What kind of music do you play?
Nick: We like to play sludge and doom music, a combination between fast and slow heavy riffs which have got a "jam" feeling with angry vocals and loud drum support.
Summon: How has the fan response been?
Nick: People seems to like our music and in our lives we love to play in front of extreme headbangers. We are waiting now to learn of reviews' opinion about our first st album and to notice the fans' reactions in our lives.
Summon: Where did the band name come from?
Nick: There are some people who live as a community, called "sadhus" that "cought" our interest about their meditation ways and the kind of life they choose to live. We considered then that we have some similarities in the way we form our band community and so, we decided that this was a very suitable name for the band.
Summon: Introduce the band members and what they do in the band.
Nick: There are five people behind the band. Stavros on vocals, Thomas G on the guitar, me on the bass, Greg on drums and Steve in the rolling and managing sector of the band.
Summon: Who writes the music? Lyrics?
Nick: We are all together making our music and each one has his personal touch to the style and songs of the band. The riffs are often the "beginners" of a song, the cooperation and the jam at next complete its progress. The lyrics is writing from Stavros.
Summon: And where do the lyric ideas come from?
Nick: The lyrics have to do with the rotten society ways, the situations that caused in these societies, the human wreckage and sometimes with some meditation thoughts.
Summon: What is your view in Satanism and Occultism?
Nick: There's something cult and spooky in the satanism and this point of art suits with extreme music. Paganism is another theory that also fits.
Summon: How many albums/CD's have you released?
Nick: We are releasing this summer our debut st album. We have also released our song "foodamentalist" for spinalonga records compilation "Miss Fortune was a Henhouse Manager".
Summon: Tell me about some the songs on the latest CD?
Nick: Our debut album has 6 songs. "Burnt By hand" is a song that combines slow and fast tempos, "Colombian boat blues" has a fast almost punk character, "the smoking community" is a doomy song, "stevaro" with mid tempo groove, "make me 20 euros" is close to motorheads rock n roll and sludge sound and "baboola" which is a "spooky" one.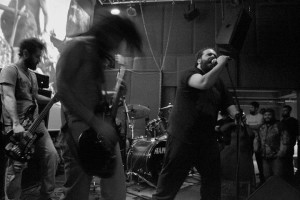 Summon: Do you have any side projects?
Nick: Greg participate in another Greek band called Last Rizla. The rest ones have played in the past with other bands such as Thomas in Violet Vortex, Noise-lust, me in Soul Fracture, but today so far no side project yet.
Summon: Who are some of your musical influences?
Nick: On "sadhus" music, sludge and doom bands such like Electric Wizard, Bongzila, Eyehategod, Iron monkey, Saint Vitus, Sleep and as always Black Sabbath are the main musical influences.
Summon: Which current bands?
Nick: Dopethrone, ufomamut, belzebong, toner low, suma, bongripper, sardonis and other similar bands.
Summon: What is the band like when you play live?
Nick: We have enough energy on our lives and the volume is always as loud as it takes. We are trying to be together as one and everyone gives its best for succeed a nice live performance.
Summon: Have you guys ever played in another country?
Nick: Not yet but we are heading to do it in the near future.
Summon: How big of crowd shows up at shows usually?
Nick: We like to play in small or mid stages and we usually have a crowd of some hundreds in our lives.
Summon: How is the crowd response when you play?
Nick: Some of them feel a little shock about the loudness of our lives, but most of them seems to have fun with our music banging their heads and groove in some point with us.
Summon: What do you think of the US Black Metal/Death Metal scene?
Nick: We listen to old school black metal bands such us Darkthrone, Mayhem, Immortal especially, and more local bands in this type of extreme music such us Ravencult, End, Dodsferd, Inveracity, Dead Congregation. If something is tickling our ears we would also check it for sure.
Summon: What do you think of the Overseas scene?
Nick: In these days, the music industry collapses, internet bring closer and closer the overseas scenes. Now more than ever it's more easier to listen new bands from all over the world… I think that this will produce more strong and more stable bands to bring something refined from the overseas scenes that we all anticipate for.
Summon: What are some of new favorite black metal/death metal bands?
Nick: As we said before we don't listen to the new black or death metal bands because we're not in this gloomy mood or cause we don't have the time for this perhaps. On the other hand if you asked us about the new Doom or Sludge scene we could write more than one page.
Summon: When do you guys plan on writing any new material?
Nick: We would like to make some new stuff as soon as we can but first of all to play as many lives we can to promote our first album.
Summon: What does the future hold for the band??
Nick: We hope at to be together as friends in the near future, to make some good music and to have healthy ears and soul.
Contact them at:
https://www.facebook.com/SadhusCommunity
http://sadhus.bandcamp.com/music
https://www.youtube.com/watch?v=OARKY5kvx1M
https://www.youtube.com/watch?v=3n51YC8R3rA