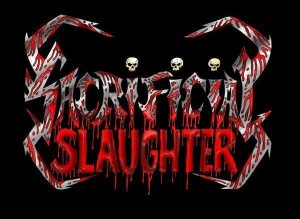 Sacrificial Slaughter
"The Great Oppression"
2013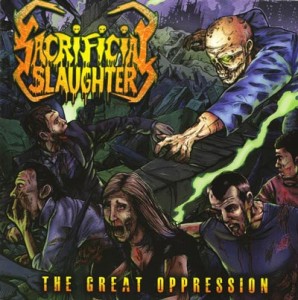 Ossuary Industries and hammerheart records present the new album from SACRIFICIAL SLAUGHTER….THE GREAT OPPRESSION. Ten tracks of old school death metal recorded at shaark studios in tne czech republic. This is the bands second full length release and they are bringing a lot of speed, hate, and aggression to the table on this one.
Steve, James, Aaron and Nick have put a pretty good bit of songwriting together on this one. Classic death metal vocals on this one and every song speeds along at a very blistering pace with a little power groove feel to it. Very angry sounding and evil as Hell, but nothing unexpected or original to separate them from the rest of the pack in their genre, and although unoriginal, they still sound pretty good and play very well.
This is one of my favorite styles of music so I enjoyed giving them a listen to, guitar solos and drums all very precisely executed, vocals bordering on deathcore, I will probably stick this one on the shelf after my second listen and leave it there to collect dust in favor of more exceptional bands, but hey, they don't suck…….they just didn't blow………me away that is.
I'm giving this one a middle of the road score…..5 out of 10………..cheers!
Tracklist:
1. Debaucherizor
2. Demand Degradation
3. Communion of Lies
4. One With the Scum (Code 13)
5. Compound Fracture
6. Necrotic Exposure
7. 80 Proof Justice
8. The Inhuman Scourge
9. Reign of the Hammer
10. The Great Oppression
https://www.facebook.com/sacrificialslaughter
Members:
Jorge Dominguez – Bass
Jim Harris VI – Drums
Aaron "The Bleeding Head" Whitesides – Guitars
Viking James – Guitars
Necro Nick – Lead Guitars/Bass/Backing Vocals
Steve "Crusty" Worley – Vocals
Rating: 5 out of 10
~Soul Torn Down