Resonance Room
"Untouchable Failure"
2013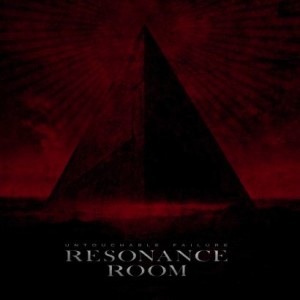 Resonance Room, Untouchable Failure, album released on March 2013 under My Kingdom Music. The band hails from Catania Italy, this is their second release since 2009. Genre is described as Dark Gothic Progressive.
Comprised of ten solid songs with very good production. A variety of instrumentation comes through with excellent clarity and sonic balance. Every instrument is well defined and easily picked out by my ears. there is a good amount of melody which I enjoy very much. The song "No Precious" is a good example of the melodic escape as it starts with a very memorable interlude which i found myself playing many times. The song has a steady build up that is progressive but over done. I definitely hear an early Anathema influence in the majority of the riffs but also get a hint of Paradise lost and End of Green as well. There is also a wealth of progressive ambiance like older Dream theater influence, take for example the song Naivety And Oblivion, it has fast paced rhythms that weave into melodic passages with slow tempos all while maintaining an easily followed structure. Outside The Maze is one of my favorite tracks well executed vocals and great lyrics take us on a journey of vast escape, I like the way the guitars harmonies on this song. The song "A Picture" has an electronic/industrial type of feeling, its a bit different but still enjoyable to my ears. Unending Loss, heavier than most of the others in the beginning. It sets a good atmosphere with some cleverly placed keyboards and heavy guitar rhythms. Prometheus, I really like the sound of the acoustic guitars in this compositions. A somber mood, dark and eerie moments and a feeling of despair, a good capture and one of my favorites. The last track on this album is Faded, its a captivating an epic song, there is a lot of feeling on this track, we get a good range of all the elements from the melodic to progressive to the ambiance all in one tune. A perfect way to seal the journey.
In conclusion, the band manages to capture the essence of the Gothic progressive sound they are emanating. Each song is well crafted and has its own distinct feeling. I recommend it for fans of early Anathema, Paradise Lost, Dream Theater, End of Green, Insomnia, Catatonia and Elm.
Tracklist:
1. The Great Insomnia
2. Cages of Dust
3. So Precious
4. New Life
5. Naivety and Oblivion
6. Outside the Maze
7. A Picture
8. Unending Loss
9. Prometheus
10. Faded
https://www.facebook.com/ResonanceRoom
Members:
Alessandro Consoli – Vocals
Riccardo Failla – Guitars
Alfio Timoniere – Bass
Gaetano Ronsisvalle – Drums
Fabio Monaco – Guitars
Rating: 6 out of 10
~Artemortifica