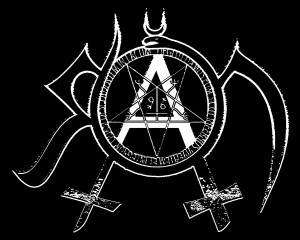 RÁN Biography
History: RÁN was formed in the Netherlands, anno 2008, on sheer – and sudden – impulse as Nekron came to realize that the time was right to return to music after 15 years had passed since his involvement with the now defunct, Icelandic grindcore act Extermination.
The band was hastily thrown together: Nekron on bass and vocals, with the Greek Reptilia and Aspyron, the former on drums and the latter on guitar.
Aspyron was soon to fall out due to inner ear trauma, suffered in part due to the sheer volumes at practice and after nearly two years of searching for the right candidate; the timely addition of the Dutch Aesthyr set the band – finally – on the right course.
More recently, Reptilia has fallen out and been replaced with the Dutch Rephaim, a session member, as the search for a full time drummer continues…
Concept: A visual artist and painter; Nekron had little trouble bringing the creative forces to bear, both visually, ideologically and musically. The intention was to bring together the predominant elements of all forms of Extreme Metal and invigorate them with relentless Black Metal Hell possession; contrasted with Hard Rock/Shock Rock influences and tainted with the cultural essence of each band-member respectively.
The lyrics and image deal with Chaos, Hell, Anti-Christianity and the slaughter of heavenly forces upon eternal battlefields. Rune magick and warlike spells are placed within the poetic concept, written in the ways of Nekron's Viking ancestors to construct a dangerous blend of powerful incantations; inviting the listener to the darkest pits of the purgatory realms and infesting their souls with ways of pure, Hellish, Rock'n Roll inferno!
Current line-up:
Nekron – Bass and vocals
Aesthyr: Guitars
Rephaim: Drums
Shows/releases: Nearing a year since Aesthyr completed the threesome; RÁN has finally begun to take it's place on stage, and is now actively seeking more venues and opportunities to perform and excel. All hooks are out and several shows – predominantly in the Benelux area – are being arranged as of early 2012.
RÁN released the first demo "Thrash Black" in summer 2011 and has just released "Doomsday Eve – Live Demo/album" as of December 2011. Plans are now in motion concerning a full scale release in the year of 2012.
Links:
http://www.facebook.com/Ranmetalwar
http://www.reverbnation.com/ranmetalwar
http://www.myspace.com/ranmetalwar
http://www.metal-archives.com/bands/Ran
Contact:        nekron@nekron-art.com
                        ranmetalwar@gmail.com