Purgatory
"Deathkvlt – Grand Ancient Arts"
2013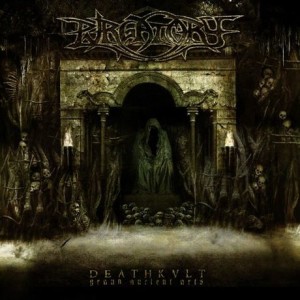 It is not often that a band exists for more than a decade and still continues to be as underground as Purgatory is. When I first heard their new album, I mistook them for some new band trying to play death metal in the old school style. This band actually has been around since 1993 and has been playing the same style ever since their inception.
'DEATHKVLT – Grand Ancient Arts' is the band's seventh full length and was released through War Anthem Records on 5th April, 2013. Now, when the album sports the term kvlt in its title, either one of two the following two things is a surety. A) The band is made up of a bunch of wannabes who think that whatever shit they manage to make is the very definition of the term kvlt OR B) The band is truly capable of conjuring some dark and destructive music that truly justifies this term.
Purgatory is a band which, fortunately, falls in the category of the later. René Kögel and Peter Wehner, create riffs that sound brutal and evil at the same time. Their music has a slight blackened edge, which tends to remind the listener, of the works of a certain band called Vader. Their style of death metal remains true to the old school ethos. This is to be expected considering that this band has been around since the golden era of the genre.
There is nothing much in terms of technicality or progression in the musicianship. The music is straight and up to the point. The drummer, Lutz Götzold does a good job in instilling a sense of brutality to this dark music with his powerful beats and rapid double bass action that accentuates the tremolo parts.
The dark and sickening growls of Dreier sound apt in giving voice to this type of evil death metal. Purgatory wastes no time with niceties and gets going right from the first note. Checking with the previous albums, it becomes evident that this is exactly how these guys have been conducting their business right from the beginning.
The production quality could not have been better. The rawness of the sound is captured well in the mixing. The only defect that I can point out in this album is that there is not much in terms of variety and the music itself feels old. Listeners looking for something new and innovative will be terribly disappointed with the album.
And for those fans that know and love Purgatory, this is another solid addition to their discography. Because these Germans stick to what they do best and play some evil death metal, the way its meant to be played.
Tracklist:
1.Onward to the Burning Shores
2. Grand Ancient Arts
3. Psalms of Invocation
4. Underneath Fathomless Depths
5. Pandemonium Rising
6. Unleash the Reaper
7. Into Starless Chaos
8. Of Reverence and Ruin
9. Consumed by Ashes
https://www.facebook.com/Purgatory666
Members:
Lutz Gotzold – Drums
Rene Kogel – Guitars/Vocals
Dreier – Vocals
Peter Wehner – Bass
Rating: 8 out of 10
~Satan Spawn
Purgatory
"Cultus Luciferi – The Splendour of Chaos"
2008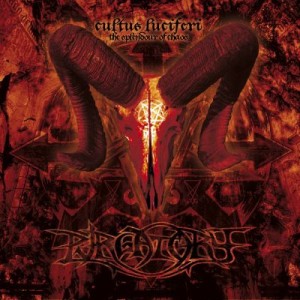 Purgatory is a Death Metal band from Germany and this CD is a Full length with 9 tracks. When I first uploaded this CD onto my computer I was rather confused on why I couldn't find it. I kept seeing this other band called "Hacci" something…. Well come to find it Purgatory just everything was labeled wrong. There music is very intense and brutal and get right into with the first track titled "Realm Of The Vortex". The vocalist greets the audience with his growls but every now and then you will hear a scream in there. As you keep on listening to the music it seems to get more intense. And the drums are very fast as it goes along with each song. You definitely have to love these songs especially titles such as "Burial Of A Plague", and "Red Prison" you can just imagine what they are about. I definitely recommend this checking this band out.
Tracklist:
1. Realm of the Vortex
2. Chaos Aeon
3. Ruler of the East
4. Forbidden Wisdom
5. Red Prison
6. Hammering the Nails – Vengeance of the Damned
7. Pits of Utmuno (Morgoth Cover)
8. Burial of a Plague
9. The Enemy Within
https://www.facebook.com/Purgatory666
Members:
Lutz Gotzold – Drums
Rene Kogel – Guitars/Vocals
Dreier – Vocals
Peter Wehner – Bass
Rating: 9 out of 10
~Sam
Purgatory
"Cultus Luciferi- The Splendour of Chaos
2008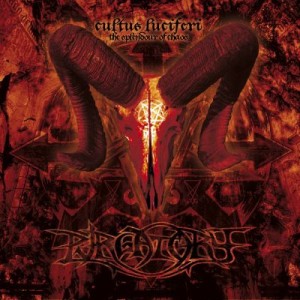 Purgatory a very effective cross between black and death metal leaning more towards death mixed with almost doomy atmosphere in some places and an abrupt tight feel in other places, showing some almost technical death influences from bands like Suffocation and with mixed high/low vocals. effective semi-melodic harmonies and high tempo rhythms make it easy to find yourself nodding along to. the short tracks make it brief without losing it's catchy appeal. appeals more to the death metal crowd than the black metal crowd, but overall a good album.
Tracklist:
1. Realm of the Vortex
2. Chaos Aeon
3. Ruler of the East
4. Forbidden Wisdom
5. Red Prison
6. Hammering the Nails – Vengeance of the Damned
7. Pits of Utmuno (Morgoth Cover)
8. Burial of a Plague
9. The Enemy Within
https://www.facebook.com/Purgatory666
Members:
Lutz Gotzold – Drums
Rene Kogel – Guitars/Vocals
Dreier – Vocals
Peter Wehner – Bass

Rating: 7 out of 10
~Netherus