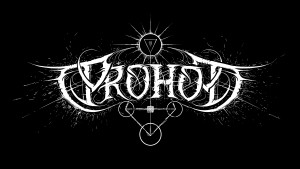 Summon: How did the band get started?
Andrei: It all started when Vali and I (Andrei) decided to start a new, gloomier project, in late October 2012. We were influenced by a sort of awareness of all that was dying around, the trees that would whisper their sadness, our mountains mourning, longing for the long forgotten life that once dwelled in here. This project was, basically, an urge to write down certain feelings, to transfigure them in art.
Summon: What kind of music do you play?
Andrei: We play atmospheric black metal, to which we sometimes add different influences.
Summon: How has the fan response been?
Andrei: So far, it was quite promising. I can even admit that it was better than expected.
Summon: Where did the band name come from?
Andrei: Prohod means "Funeral song", and it is an ode to the beauty of a dying world.
Summon: Introduce the band members and what they do in the band.
Andrei: Vali Mandeal is our lead guitarist. He and me (Andrei) we the first members of the band, we composed and mixed everything so far (except the intro from "Din sihle pustii", which was composed by Raluca). Then there are Raluca Damian and Ovidiu Ban, playing guitar. We also had a session guitarist, who also composed some riffs, Radu Mihaiu. Alin Federiga is the session bass player for our brand new album "Hotarul Imbrelor". And then there's me (Andrei Oltean). I am the singer of the band, and I also do the folk instrument parts.
Summon: Who writes the music? Lyrics?
Andrei: I (Andrei) wrote the lyrics.
Summon: And where do the lyric ideas come from?
Andrei: As I explained earlier, they are a materialization of nature's sorrow itself, beholding the atrocity of the becoming of mankind.
Summon: What is your view in Satanism and Occultism?
Andrei: Honestly, we have nothing to do with Satanism, or with any religious path, in fact. The only religion should be that of self-respect and one's will to follow his own dreams. Concerning Occultism, we may say that life is indeed a constant trial, so certain spiritual meanings of events are welcome to add complexity to the Weltanschauung we are exposing.
Summon: How many albums/CD's have you released?
Andrei: Our debut album, "Hotarul Îmbrelor" , is due to be released in 27 mai.
Summon: Tell me about some the songs on the latest CD?
Andrei: Well, the Cd contains 11 songs with varied length (from 3 to 10 min long), all expressing a certain melancholy. I think our most well known song is "Sacrilegiu sfetnic".
Summon: Do you have any side projects?
Andrei: Yes. I (Andrei) am involved in the folk metal band called WarChant. I play bagpipe and recorder for them.
Summon: Who are some of your musical influences?
Andrei: Well, the influences vary a lot, from melodic death, black metal and so on to classical ideas. As you may have noticed, we even have, on the song called "Viers de foc", which is already uploaded on youtube, a passage taken from one of Paganini's compositions.
Summon: Which current bands?
Andrei: Thulcandra, Behemoth, Dor de duh, and many others. We even use some of Eluveitie's techniques for whistles on the song "Viers de foc".
Summon: What is the band like when you play live?
Andrei: We only had a debut gig so far, and i have to say it all went pretty well. Although, being new, we only had time to prepare five songs, but the atmosphere was awesome.
Summon: Have you guys ever played in another country?
Andrei: Not yet, but hopefully in the future.
Summon: How big of crowd shows up at shows usually?
Andrei: There were between 50 and 100 people, as we are a new, relatively unknown band.
Summon: How is the crowd response when you play?
Andrei: They really seemed to enjoy.
Summon: What do you think of the US Black Metal/Death Metal scene?
Andrei: Well, it's a really pleasing musical culture, in progress, and we hope it will stay that way.
Summon: What do you think of the Overseas scenes?
Andrei: Having no experience concerning this, I can only assume they are cool. We'll have to find out, don't we?
Summon: What are some of new favorite black metal/death metal bands?
Andrei: There are great new-born or relatively new underground projects, such as Zgard, Martolea, Khors, Exiled from Light and many others that really do a great job.
Summon: When do you guys plan on writing any new material?
Andrei: Hopefully this summer, we are quite sure about that.
Summon: What does the future hold for the band??
Andrei: We cannot foresee, but it looks quite promising. After we release the album we will start composing the next album and search for some gigs.
Contact them at:
https://www.facebook.com/prohodband