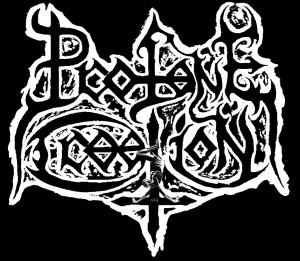 Profane Creation was born in 1991 with the purpose of executing a Black Death Metal, The band released some DTs between 1992 – 1995 as follow:
-1992/93-Into The Dark Side (8 songs reh. demo)
-1993 -New Kingdom (8 songs reh. demo)
-1994 -Supremacy (4 songs official demo)
-1995 -In Name of Supreme Black Arts…Nema (4 Songs official demo)
After some gigs and participation in compilations CD and a Split CD together with Inquisition,
PROFANE CREATION was dead in 1996.
Due to the strong promotion and relationship into Brazilian Underground the band Turns reference to the Black Metal in Brazil, and remaisn till day today.
Now, 2014, the band come from the ashes…  The current music of Profane Creation are turned to the roots of its origin.
Thematic Black Metal, but with a sound that involves all Metal style.  With a New profane member in Line Up:
Paolo – vocal/guitar (from Thy Light)
Rochesther – guitar
Anyldo – Bass
Rogers – drums
Discography:
1996/97/2006 Inquisition / Profane Creation split Cass./CD/LP
1998 Supremacy RE-issue CD
2013 Prelude to the Dark Side
New upcoming releases by Hammer of Damnation recs
"Supremacy / Nema" CD march/2014
band contact: profanecreation@outlook.com
site: http://profanecreationblackmetal.blogspot.com
face: http://facebook.com/bandaprofanecreation