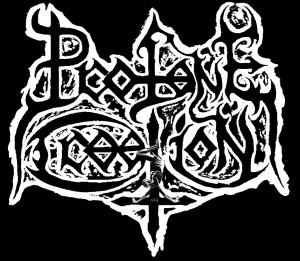 Summon: How did the band get started?
Rochesther: We were gathered together among friends in 1991 and decided to form a Metal band, We were at school that time, so we join some friends and start to play.
Summon: What kind of music do you play?
Rochesther: Thematic Black Metal, but we have many Metal styles as influences to our song.
Summon: How has the fan response been?
Rochesther: Great, before, we got some recognized in underground through the split CD together with Inquisition, and now after our return is so nice to know that the metal-heads still has interest in Profane Creation.
Summon: Where did the band name come from?
Rochesther: We join same ideas and names, but really, by the final remains to choose between two, Profane Creation or Warmaster, both songs from a Bolt Thrower album but these names sounds very well for a band…. and we decided to Profane Creation, due to our lyrics be more about profanations hahahahah.
Summon: Introduce the band members and what they do in the band.
Rochesther: Me (Rochesther) – guitar & voices / Anyldo – bass & backing vocals / Rogers – Drums
Summon: Who writes the music? Lyrics?
Rochesther: The music are done with all members, we join some ideas to compose each song, and I write the Lyrics.
Summon: And where do the lyric ideas come from?
Rochesther: From everywhere I think, basically the Profane Creation lyrics are on occult world and profanations, the depressive moments are the best to write.
Summon: What is your view in Satanism and Occultism?
Rochesther: I was very involved with both in the past when I were young, and with passing time I needed turn away, actually so many peoples uses or see it as vision of their own evil, the human evil, but the energy in the world is natural neither good neither evil, just depends the way you do uses it.
Summon: How many albums/CD's have you released?
Rochesther: Till the moment: split CD Inquisiton/Profane Creation 1996, and participation's in compilations CD's and now after the return, CD "prelude to the dark Side" and CD "supremacy / nema" these with old songs, a new album in coming this year!
Summon: Tell me about some the songs on the latest CD?
Rochesther: This CD joined our latest demo songs "supremacy" 1994 and "In  name of supreme black arts…nema" 1995, as these stuff never got released on CD before.
Summon: Do you have any side projects?
Rochesther: In course Just Anyldo (bass) play in another band called Final Holocaust. 
Summon: Who are some of your musical influences?
Rochesther: There are a lot, but some examples: Samael, Destruction, (old times), Immortal,… and Northern Black Metal in general, although we hear something out of the metal, our influences are only in metal music.
Summon: Which current bands?
Rochesther: We like of many new bands, but I think none influence us directly.
Summon: What is the band like when you play live?
Rochesther: We perform Metal, Black Metal attitude but Metal over the all, just Metal from Metal-heads to Metal-heads \m/
Summon: Have you guys ever played in another country?
Rochesther: Not yet, were invited in the past, but due to personal reasons we never gone, is in our plans for live gigs this year.
Summon: How big of crowd shows up at shows usually?
Rochesther: Our latest, before band end, was about 300 metal-heads, when playing in closed space, we don't play live since long time, returning this years, hope the same or more.
Summon: How is the crowd response when you play?
Rochesther: Nice, really, we always had luck with the audience, all headbangers present going crazy \m/
Summon: What do you think of the US Black Metal/Death Metal scene?
Rochesther: US has great bands, I think USA Thrash and Death are really biggest  headlines in worldwide scene, as for Black is a quite more 'occult' as it need be,  I like and follow great bands as Absu, Inquisition, Grand Belial's Key, Judas Iscariot, black funeral, etc… 
Summon: What do you think of the Overseas scenes?
Rochesther: Metal is excellent everywhere, in some countries is more difficult to keep on a band, there's no support, and some just few public, but who has a band or label or zine, makes for the love to Metal. some countries have low quality bands but they really loves Metal and this is what import at all however the most significant will always be the European metal, especially when it is black metal.
Summon: What are some of new favorite black metal/death metal bands?
Rochesther: Thy Light, Cauterization, Luciferiano, Sumun Heredis, Catacumba, these are some of new bands, but there are a lot of new good bands, Metal Rules!
Summon: When do you guys plan on writing any new material?
Rochesther: Actually we're already composing new stuff, and a new album is planed to end of this year (2014).
Summon: What does the future hold for the band??
Rochesther: A new album, with new songs as we have only songs from 1992 – 1996 till today, now after 18 we'll have new stuff, finally, we keep same style but with our updated vision of the things around us…. and also future gigs into and outside Brazil, we're already managing some dates… keep burning the flames of Metal, hope see you in some future Profane Creation live ritual \m/
Thanks Altara Blakthorne for this place in your publication!
Contact them at:
https://www.facebook.com/bandaProfaneCreation
http://profanecreationblackmetal.blogspot.com.br