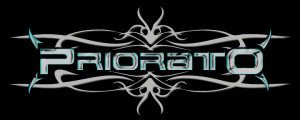 Priorato started in 2008, under the conception of music without boundaries.
The line up was Caluco Roldan (Lead Guitar and Vocals), Luis Zarate (Rhyth Guitar), Carlos Espinoza (Drums), Andres Chino (Bassist); after of some months Carlos Espinoza was out from the band and replaced for Andres Cardenas. With who the band recorded their first demo of the band in the last months of 2008. In the beginning of 2009, Priorato recorded their first full length of the band titled: "Camino Al Priorato" with a sound of Black, Death, Thrash Metal influences. With the ending of this project and in the last monthsof 2009, Andres Cardenas left the band. Andres was replaced for session musicians to complete the performances on the tour to promote the full length: "Camino Al Priorato".
In 2010 Andres Chino leaves the band and Pau; Cardona is contacted like bassist and the same time Alex Castro joins the band as the new drummer and Jose Rueda as Sonidist; Luis Zarate leaves the band.
The end of 2011 the band recorded their second full length titled "Negative". A full length show, the new sound of the band with a lot innovations and reflex the genre of the band (Aggressive Metal).
In June of 2012 Alex is Replaced in the drums for Dan Benalcazr.
Now the new line up is: Caluco, Paul, Dan and Jose, who are working in the recording of the third full length of the band.
LINKS:
www.myspace.com/prioratodesion
PHONE
084841655 ECUADOR
(593)84841655