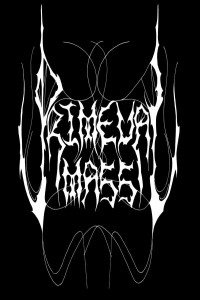 Primeval Mass
"Blood Breathing Idols"
2012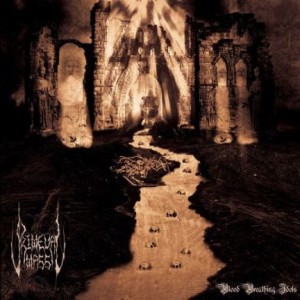 Hailing from Greece, a land home to a plethora of heavy Black Metal, comes Primeval Mass founded in 2000. A two member outfit with Orth handling all instruments but drums which are handled by Alex Zachos.
What stands out about Primeval Mass is that they have really Heavy Drives, and focus less on the ambient tremolo chord play that many Black Metal bands use. If it were not for the guitar tones have the tinny sound, they would sound like a Black Death Metal band. Cenotaph and Scarlett Horns specifically are real stand out tracks. The guitar riffing is real proficient and well laid in the songwriting as not to be a heavy focus points.
Orths vocals are real strong, they have that psychotic edge and punch I look for. Another facet that keeps the band in the Black Metal arena.
If you are look for some thing heavy to check and you like Metal from Greece you will most likely enjoy Primeval Mass. I put them in the RECOMMEND category.
Tracklist:
1. Rites of Transcendence
2. Blood Breathing Idols
3. Cenotaph
4. Spheres of Deliverance
5. The Scarlet Horns
6. Amongst the Ruins of Cosmos
7. Thine art the Sulphur Plagues
8. Teeth like Daggers
https://www.facebook.com/primevalmassofficial
Members:
Orth – Lead & Rhythm Guitars/Bass/Vocals/Storms and Invocations
Alex Zachos – Drums
Rating: 8 out of 10
~Alaric Hannibal Barca
alaricbarca.com