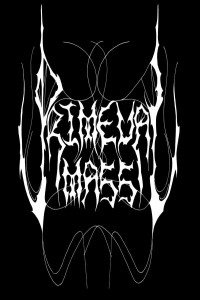 2.000: The Primeval Mass conception is summoned by Orth.
2.002: With complete line-up, first rehearsals start, molding what once was an idea.
2.003: Debut official recording. Two tracks in promo form limited to 100 copies (release known as "Promo 2003").
2.004: Live activities never were basic characteristic of Primeval Mass, though this year the band performs twice. A few months later the recordings of 5 new tracks start.
2.005: "Enlightened Black Gnosis" tape is released through Unholy Distro (gre) limited to 500 copies.
2.006: The band starts the recordings of new tracks that finally completed two years later after line-up changes.
2.008: The new tape entitled "Atermon" is released through Stuza Production (ukr) limited to 500 copies as well.
2.009: The first full-length album is released under the title "As Solemn Maelstrom…" (in which "Enlightened Black Gnosis" and "Atermon" are included) in CD format through Stuza Production, limited to 1000 copies.
2.011: The band records one new track for a 7" split EP. "Amongst the Ruins of Cosmos / Nightside" split with Ezgaroth is released through Katoptron Records, limited to 300 copies.
2.012: Primeval Mass completes the recordings of the second full album "Blood Breathing Idols". The precursor limited edition promotional single "Rites of Transcendence" is released in June of this year, while the tape version of the album comes in December 12th.
2.013: The CD version of "Blood Breathing Idols" is released in May of the 2.013th year.
LINE-UP:
Orth: Lead & Rhythm Guitars, Bass, Vocals, Storms and Invocations
AZ: (Session) Drumming
DISCOGRAPHY:
-"Promo 2003" (2.003)
-"Enlightened Black Gnosis" (Unholy Distro tape-2.005)
-"Atermon" (Stuza Prod. tape-2.008)
-"As Solemn Maelstrom…" (Stuza Prod. CD-2.009)
-"Amongst the Ruins of Cosmos/Nightside" (Katoptron Rec. 7" split EP-2.011)
-"Rites of Transcendence" (single-2.012)
-"Blood Breathing Idols" (Stuza Prod. tape-2.012, Katoptron IX Recs CD-2.013)