Prime Sinister
The Blackest Movie
Mammoth Extinction
11 Track Album
Great Dane Records
Released 2015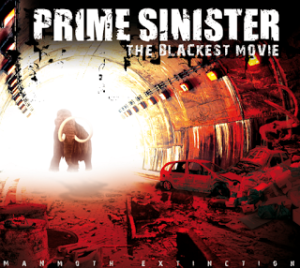 Prime Sinister – Orléans, France
Links:
https://www.facebook.com/primesinisterofficial
United in Violence       – Demo              2007
United in Violence       – Full-length     2008
Wish Me Hell               – Full-length     2010
The Blackest Movie: Mammoth Extinction 2015
Genre: Stoner Metal
Biography:
"It was at the end of 2006 that PRIME SINISTER saw the light, fueled by a hate overdose in the city of angels.
The band, led by Pills, singer and guitarist, 96 playing the bass and fuse behind the drums, delivered a musical crossover between industrial metal and stoner rock. A loud, dark and powerful sound, through which Prime Sinister spat out its anger and settled its scores with society!"
~~~~~~
The Blackest Movie
Not the usual beginning to a stoner album although it soon settles into its slow paced amble and is a tasty morsel that is increasingly enjoyable. Pills sounds ever so much like Lemmy, as his vocals are distorted and grisly.
I Can't Change
Some samples open this imaginative track that moves on to reveal some gripping frets and relentless bass. Fueled by its addictiveness it peaks the interest and holds the attention perfectly.
Blood Red Blues
Bearing its fangs on the album is the third track that emerges triumphant and eager to please with its gritty melody and predacious nature. The rugged enterprise is outlined by the vocal slurry that engages and coaxes the listener in such a way it cannot be ignored.
The End is on
With its addictive riffage and thunderous drum beat, it catches the imagination superbly and try not to get too involved in this track is virtually impossible! The ever present 'Lemmy' vocals are always welcome on all accounts.
Sweet Time for Crime
I can't help but feel this is a play on 'Sweet Child in Time' however, on listening it sounds nothing like the aforementioned track at all.  This is powerful, gritty and edges toward contrasting weaves of sultry and smoldering.
Prime Cut
Harbouring a sinister and atmospheric guise it ambles in its stoner moment to bombard the senses. The fret work washes over the listener in sonic waves of tempestuousness and leaves one with one's mouth agape!
The God's Failure
With some hellish words opening the track this one scolds with a dynamic heat that blisters, in an all-out distinct familiarity! There is no easing into the track at all as it Flambes the ears with epic musical connotations!
Hellone
Holding a deep and resonating power that simply scorches as it emanates through the speakers leaving them juddering at the seismic rhythms. The beat is catchy and yet predatory infesting the ears as it passes.
Let me down
With riveting anticipation this track slowly edges its way forward to reveal a pulsing invention. The vocals simply slide along on a rich bed of stoner notes that invite and coerce.
Final Cut
Weaves some beautiful tonal chords that enlighten and uplift the spirit. The addictiveness of the track unfolds into an epic splendor that is thrilling to the ears and surges with an orgasmic storm of unpredictability.
The Wait
Can only be described as antagonistic, and heavy! It is rumbustious and bold with fire in its veins. The expressive vocal lures are relentless and forthright, adding to this superb track.
Summary:
This album is a must for all stoner fans. It isn't too slow so as you fall asleep or too fast to keep you in a constant state of turmoil either. It's edgy and all-encompassing to the point you quite literally want to remain in its clutches just that moment longer!
The antagonistic grooves bite deep and hard with relentless strikes of what can only be described as sheer pleasure!
9.5/10
Track List:
The Blackest Movie
I Can't Change
Blood Red Blues
The End is on
Sweet Time for Crime
Prime Cut
The God's Failure
Hellone
Let me down
Final Cut
The Wait
Members:
Pills – Guitars & Vocals
Infuscomus – Drums & Backing Vocals
Cly'Max – Bass & Backing Vocals