Primal Age
A Silent Wound
4 Track E.P
Deadlight Entertainment
Release Date: 3rd March 2017
Written for Blackened Horde Zine
By: Pagan Hel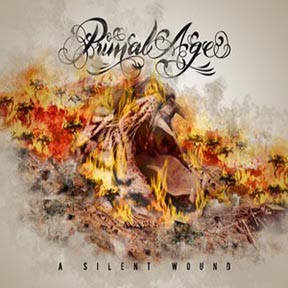 Primal Age – Rouen France
Links:
https://www.facebook.com/PRIMALAGE/
Genre: Metalcore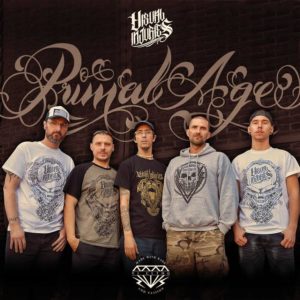 Biography:
"Energy, power, passion & communication with the public it's how we can resume PRIMAL AGE's shows – Defence of animal rights, vegetarianism, ecology denunciation (amongst other things) of the over consumption of mass are so many recurring themes that the band explains about and have asserted since 1993. PRIMAL AGE marked the 90s by being among the first ones to mix Metal and Hardcore styles in Europe.
The band began in 1993. After a lot of shows all over France, Primal Age appeared on the compilation "In This Other Land" (Overcome Rcds), with other bands like Kickback, Drowning, Right for life, Stormcore, Seekers of the Truth and become a revelation by its music inspired by Hardcore and Metal!"
~~~~~~~~~~
If there is one genre that makes me smile from ear to ear it is the one entitled METALCORE. It has something to do with the ferocity in which it is delivered and executed. It can create a mosh pit in literally seconds of the tracks coming into play. However, the themes that Primal Age have chosen to write about Whistleblowers VS World Health Organisation to name but one, are very controversial but this is something in the band's favour for sure! We all have opinions that others sometimes disagree with but when put to music it can take a step back from its political stance as the music tends to wash over you and take complete control. 
A Silent Wound sounds almost black metal as the screaming vocals bind along with the music some frenzied attacks of seething metal that hammers home saying that this track is bold and simply roars with gripping excitement. Such passion and creativity can be experienced on this track alone as it broadens one's horizons with a passionate insight into the bands complete unsettled calm and wages war with eager aggression.
Counterfeiters of the Science is fuelled with distortion and eerie madness until it explodes into a sudden rage of terror. Sparking venomous riffs and a crazed drum beat and it doesn't stop to catch its breath either as it beats the living shit out of your skull for just getting in the way of its mighty roars. It is a very demanding and powerful track that deserves your full attention and focus.
To Jeff is an ode to Slayer's Jeff Hanneman who died of liver failure on the 2nd May 2013 and whose band Slayer covered topics such as murder, serial killers, necrophilia, torture, genocide, human experimentation, Satanism, hate crimes, terrorism, religion, anti-religion, Nazism, and warfare, and that has generated album bans, delays, lawsuits, and criticism from religious groups and the public, but who gives a toss! They have a right to speak their minds like anyone else!! Although I never got into Slayer or the extreme revolution of thrash when it first appeared in the early 80's but I do have a lot of respect for these guys who gave us this thunderous sound, while I was still into my rock and NWOBHM – however, the local band scene changed things for me in the 2012 era and now thrash and the more extreme end of the scale is far more appreciated than it was for me in the 80's. But it is an acquired taste and depending on the age you are, you may not appreciate the grunting, growling intensity, but for me it goes a long way to making me want more and more and I regret not liking it in the past, as this track is a fantastic tribute to Jeff who would be proud of it, make no mistake, and well done to the guys Primal Age for producing such an intense listen in just 4 tracks!
9/10
Track List:
Whistleblowers VS World Health Organisation
A Silent Wound
Counterfeiters of the Science
To Jeff
Line-up:
Benoit – Guitar
Florian – Guitar
Mehdi – Drums
xDimitrix – Bass & Vocals
xDidierx – Vocals