Summon: How did the band get started?
xDimitrix: We started in 95, one of the first band in Europe mixing metal and hardcore.

 
Summon: What kind of music do you play?
xDimitrix: Metalcore seems to be the word which defines our music.


Summon: How has the fan response been?
xDimitrix: Yeah it was great. It was the same period we had bands in Europe like Kickback or Arkangel, and I think that our message was an important point for the fans.

Summon: Where did the band name come from?
xDimitrix: We wanted to make a reference to another period when the air on Earth was less polluted. We wanted to notice the stupidity of human beings who are able to destroy the fauna and flora and the place where he lives.


Summon: Introduce the band members and what they do in the band.
xDidierx: vocals
Florian: Guitars
Benoit: Guitars
Mehdi: Drums,
xDimitrix: Bass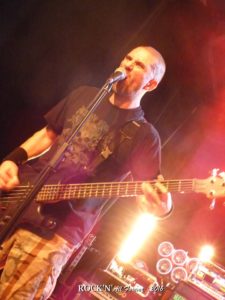 Summon: Who writes the music? Lyrics?
xDimitrix: Most of the music comes from the guitar players, but I also make some tracks… sometimes. I also write the lyrics, but the others can suggest me a topic and I take a pen.


Summon: And where do the lyric ideas come from?
xDimitrix: We wish to raise various subjects, but those in favor of defending animals andthe planet are our favorites. Twenty years ago we thought we were alone, but today these ideas are often relieved in the media.

 

Summon: What is your view in Satanism and Occultism?
xDimitrix: I just don't care about it)). But our singer was listening in the 80's some bands like Venom, Bathory, Possessed, Celtic Frost, Hellhammer, Death, Mercyful fate…


Summon: How many albums/CD's have you released?
xDimitrix: Actually we have 2 full Cd's (A Hell Romance and The Gearwheels of Time), a split album with Mostomalta from Argentina and Cherish from Japan, and 2 MCD's, our first one from the last century (A Light To Purify), and this new one (A Silent Wound).

Summon: Tell me about some the songs on the latest CD?
xDimitrix: The 3 first songs are very aggressive with trashy parts, blast mixed with groovy hardcore parts. It's like a steamroller, and we also wanted to have a track in memory of Jeff Hannemann. So the fourth is a medley from Slayer.

 
Summon: Do you have any side projects?
xDimitrix: Our guitar players (the 2 new members) are also playing in other bands and the others just don't have the time to have a side project. Between 2000 and 2005 we had one called xAbsonex (edge metal).

Summon: Who are some of your musical influences?
xDimitrix: You can find it in the metal scene, like Slayer, Metallica, Sepultura… and in the hardcore scene, like Earth Crisis, Hatebreed or Madball.


Summon: Which current bands?
xDimitrix: They are all still alive)).

 
Summon: What is the band like when you play live?
xDimitrix: We always try to give the most energy that we can. If you want to receive from the crowd you have to do your best. Being in a studio is a great experience, but a bit frustrating, cause you can't move. Being on stage is what we prefer.


Summon: Have you guys ever played in another country?
xDimitrix: I have 12 in memory, the most are in Europe, but we made a tour in Mexico, in Japan and in Brazil too. It's a great opportunity for us the see different cultures and countries with our music, we really like that and we want more.

 
Summon: How big of crowd shows up at shows usually?
xDimitrix: Some thousands when we have the occasion to play in fest, but we usually play for few hundred people.


Summon: How is the crowd response when you play?
xDimitrix: We usually have good returns, people moving or just listening. As I said before, we try to give our energy, so we feel happy when we can share our feelings.
We have great memories of shows in small clubs or in festivals, it doesn't matter. The only important thing is the atmosphere, when we see people having fun.


Summon: What do you think of the US Black Metal/Death Metal scene?
xDimitrix: We've listened some famous bands as DEATH, POSSESSED, IMMOLATION, MORBID ANGEL, DECIDE. We were marked by DEATH & POSSESSED, or European bands as VENOM/BATHORY/HELLHAMMER/MERCYFUL FATE. We less know the new scene, it's a fact.
Summon: What do you think of the Overseas scenes?
xDimitrix: The most famous bands come from the US, so… it is necessarily a big influence for us.

 
Summon: What are some of new favorite black metal/death metal bands?
xDimitrix: I have in mind bands like Marduk, Dark Funeral which are more recent as those mentioned higher which stay as references for us, more notating at their period than today where we see a lot of cliché. It's the same for the hardcore scene.

 
Summon: When do you guys plan on writing any new material?
xDimitrix: We hope in the next two years, but we plan some tour, shows.

 
Summon: What does the future hold for the band??
xDimitrix: We always hope to share the stage with bands we love and see more countries. One of the last band we really respect and we've never play with is Sick Of It All, not very the same kind of music, but an old dream.
Contact them at:
https://www.facebook.com/PRIMALAGE
http://www.youtube.com/user/primalage1997
https://www.reverbnation.com/primalage3
http://primalage.bigcartel.com/
https://www.instagram.com/primal_age/
http://primal-age.wixsite.com/primal-age