Power Fuel
Tribute to Slayer
10 Track Album
Great Dane Records
Released 20th November 2015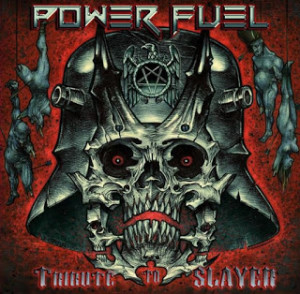 Power Fuel – Saint-Quentin
Links:
https://www.facebook.com/powerfuelofficial
Listen to the full album here: https://www.youtube.com/watch?time_continue=3&v=3YmRcnNl3o0
Artwork by Denis GRRR (c)
Genre: THRASH DEATH SPEED METAL
Biography:
"POWER FUEL are a French Thrash Death Metal formed in December 2007 by Laurent (guitars) and Steph (drums). They are then joined by a second guitarist, a bassist and a vocalist. With this line-up the band recorded its first CD self-produced album in 2009 entitled "The Pure Gasoline" at Studio Kozak (02) and a series of concerts.  In October 2015 POWER FUELsigned with the label GREAT DANE RECORDS for the release of an album dedicated to SLAYER!"
~~~~~~~~~~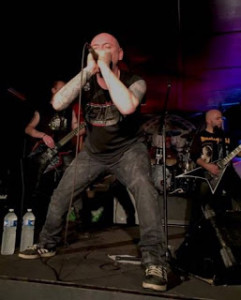 Power Fuel 
I find it touching that bands want to pay tribute to their favourite bands, although I never really got into Slayer when they first hit the scene back in the early 80's as I was quite blinkered and was just stuck in a groove.
Nowadays, I am much more open minded and find this genre of music breath taking and find it really scratches the itch nicely!
But, this being said, I must be one of those very rare people that can honestly say I haven't really heard a lot of Slayer (apart from Raining Blood) so I will review this album in a very different light to people who are ardent Slayer fans.
Slayer do seem to have their own way of producing music, meaning it is very predatory and Power Fuelled and has certainly captured this essence extremely well on the opening track 'South of Heaven'
The blistering menace snarls and excites as on the track 'The Antichrist' with superb use of guitar frets and engaging savage beats not to mention the chug frequency being more or less non-stop, which isn't a bad thing at all!
There is a certain amount of melody contained within the structure and at times the notches are raised or lowered depending on which track is being played although certainly even for a lowered pace the intrigue is never far away as on'Seasons in the Abyss'
'Hate Worldwide' sees the notch move several inches higher as the rampant riffs hit in a vulgar scathing mass, screeching with contrasting powerful infusions.
'Spirit in Black' is another chugger that delights in harsh, forthright immersion and hones in on a lavish seduction and an emotive drum beat force to boot.
The next track 'World Painted Blood' is considerably different in the fact it doesn't just launch into a circus of potent rhythms, but slowly explores its surroundings until it finds its familiar zone once again and only then does it go in for the kill.
Having heard a few Slayer fans talk about their favourite band a lot say that 'Behind the Crooked Cross' is one of Slayers most creative tracks. However, this is the first time I have heard it and not sung by Slayer either!  The riffs are huge and unrelenting with a fast paced beat closely followed behind.
'Expendable Youth' is up next and again can boast a chug effect of guitars that form a ridiculously addictive rhythm section. The vocal scourge builds to quite an anthemic roar, although not as appealing as some of the previous offerings on the album.
Another favourite of Slayer fans is 'Angel of Death' and judging by the drumming alone I can see why! It's fast paced and then some, with fantastic kick beats leading the way and a low toned growling vocal edge. The melodic slices heave with gripping qualities.
The sound of thunder brings to life 'Raining Blood' and that chug, (a definite trade mark for Slayer, although not as fast or as crisp as Slayer would have it, but Power Fuel have certainly stamped their mark on the proceedings) breathes new life into the listener who may enjoy the virulent and creative flow of such a track. This is played with such venom that it's so easy to get caught up in. The quickening beats are flavoursome and the vocals display edge and feeling, then the track heads straight for annihilation with a conglomerate of riffs that merge into a free for all.
This album will not be without its critics who say it isn't Slayer, it isn't but Power Fuel have added their own take by a harsher vocal and indeed honour their favourite band with a lesser thrash feel and more of a death punch.
Will listening to this album make me want to rush out and buy some Slayer? Maybe not, I feel that ship sailed long ago, but I can now at least understand and appreciate what all the fuss was about 30 years ago, and admire what Power Fuel have done in creating such an album.
9/10
Tracks:
South of Heaven
The Antichrist
Seasons in the Abyss
Hate Worldwide
Spirit in Black
World Painted Blood
Behind the Crooked Cross
Expendable Youth
Angel of Death
Raining Blood
Members:
Ben – Vocals
Laurent – Guitars
David – Bass
Mike – Drums