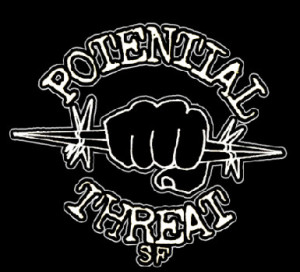 Potential Threat
"Civilization Under Threat"
2013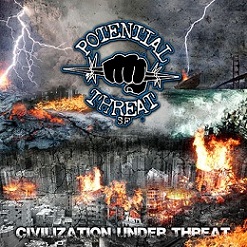 Right off, I think that if you are a fan of Anthrax or Testament, then I think that you could really get into San Francisco's Potential Threat. Sharing similarities along with bands from the bay like Vicious Rumors. Actually, I was just listening to Digital Dictator the other day and it reminds me of the sound of bands from that time.
What I like most is the familiar thrash rhythms and drives are put to good use here. They are catchy and easy to get into. This is really solid, you can listen to this from beginning to end.
There is a natural sound to the whole CD, the guitar is distinct in that there is not an over compressed digital sound, and the drums are strong in the mix, you can hear the nuances with out being covered up with studio tricks.
The vocals are good, strong, homogeneous without sounding like any of any of the Bay Area counterparts. While gruff Noble never goes for the high bite and I think that is what distinguishes him.
Tracklist:
1. Intro
2. Destroy and Dominate
3. The Threat of Things to Come
4. Stick to Your Guns
5. In for the Kill
6. Edge of Insanity
7. Beneath the Surface
8. Behold the End
9. Written in Blood
https://myspace.com/potentialthreatsf
https://www.facebook.com/potentialthreatsfofficial
Members:
Mike Noble – Vocals/Guitars
Daniel Sheridan – Guitars/Backing Vocals
Damien Sisson (also of Death Angel) – Bass/Backing Vocals
Kenny Noble – Drums/Backing Vocals
Rating: 9 out of 10
~Alaric Hannibal Barca
alaricbarca.com