Post-Mortem
God with Horns
9 Track Album
Great Dane Records
Released February 2016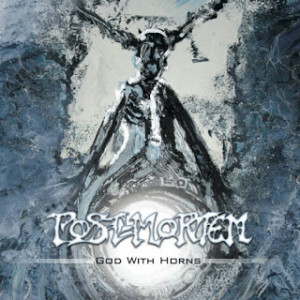 Post Mortem – Mulhouse, France
Links:
https://www.facebook.com/postmortem
Genre: Death Metal
Biography:
"Post-Mortem was founded in Alsace in 1995 by Fabrizio, Sam and Lawrence. After several changes, the line-up stabilized in March 1999 with the arrival of Jack on guitar and Manu behind the vocals.
Their practiced style, was a melodic death thrash with various influences (Paradise Lost – Dark Tranquillity – Amorphis) and it was in this musical direction came 1st MCD Group in March 2000 "Mystic Delights" or mingle great rhythmic, melodies, guttural voice, clear voice, violin keys and keyboards.
Summer 2001 Post-Mortem returned to the studio to record their 2nd MCD "Mankind Autopsy" in a brutal US death style and more in keeping, having its influences: Dying Fetus – Cannibal Corpse – Cryptopsy – Six Feet Under as well as hard core contributions (Nostromo – Pantera) or thrash (Slayer)
Critics and chronicles received for the second MCD were very encouraging and Post Mortem contributed to many concerts in France and abroad seeking to make themselves known and playing to the maximum.
In 2004, Manu left the band and was replaced by Sylvain, sees in parallel Jack and Sam joined the ranks of Karelia but a while later the group was finally put to sleep, unable to bear the many other activities of band members … until early 2012 or inhabited by the lack of metallic fury Manu, Sam, Laurent and Fabrice decided once and for all to put things back together and became motivated more than ever to the idea of ​​sharing this brutal music to the masses!"
Intro (Beyond the Void) amid the sampled voice comes a very sophisticated and melodic stream of satisfying creativity, housing harmonious vocals and urgent explorations.
Spine Trophy – kicks it up a notch and here you actually sample the vocal hard edged deep growls that sit on a thick bed of rampant riffs and volatile beats. The good thing is that the track never loses its melodic leaning and gives your head something to bang to.
Rules of Death – bursts into a tempestuous riff guided by blast beats and perpetual motion that demands attention. The hearty vocal offerings are accompanied by a clean urgent vocal adding depth to an already deep track.
Eat the Cadaver – This is a lot heavier in delivery than the previous track, engaging on a feisty level, with stops and starts but quickly finds its momentum and savagely attacks the ears with brutal embellishment.
Industrial Aborting Process – Is a lot more precise as the weaving twists burn savagely and accompanied by a harsh and unrelenting vocal edge. The virulence protrudes and offers a slick malevolence that in turn gives us an encouraging melodic pattern of rhythms.
The God with Horns – The bands title track is calm and deliberate as it sweeps to greater heights until it builds into one of fire and brimstone. You can almost picture the scene of a horned God. It picks up pace and launches with savage effect and pulverises the ears with a malignant swipe of drums.
Void Millennium Genesis – again a swagger of rhythms sweep through the speakers and engage on a dark octane level. Creating an intriguing tangle of obnoxious toxicity with plenty of bad ass attitude.
Outro (Coming War) – The tingles of the final track edge their way down your spine in this anxious blend of beats that sound like marching feet. Building slowly and menacingly into view until all that is left are visions.
Bonus Track – Umbilical Strangulation – as expected from its un-forbidding title it is grisly, gruesome and full of complex traits that set the pulse racing for head banging uncontrollably.
Summary:
The album is one crazy manifestation of gargling vocal and unrelenting blast beats that kick up a storm so heavy that it leaves a haze of dust in its wake!
Flavoured with good strong melodic traits that are very involved and make for a contagious listen.
The final steps of the last track are unsurprisingly in French and so to the average Brit totally unintelligible unless you know a lot of the lingo, but that is the beauty of death metal most of the vocals are unintelligible so it relies heavily on the music to carry it, so you don't even need to know what the words are outlining.
The snarling gargling vocals are in keeping with the malignant core of the tracks and further still the rapacious flurry of rhythms attack aggressively, leaving an inspiring flourish epitomising the rapid growth of Post Mortem.
9/10
Track List:
Intro (Beyond the Void)
Spine Trophy
Rules of Death
Eat the Cadaver
Industrial Aborting Process
The God with Horns
Void Millennium Genesis
Outro (Coming War)
Bonus Track:
Umbilical Strangulation
Members:
Dahu Grogneur – Vocals
Sam – Guitar
Laurent – Drums
Pierre – Bass
Gaetan – Lead Guitar