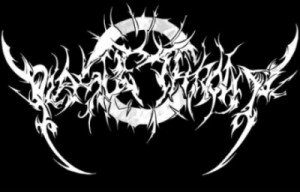 Plague Throat
"An Exordium to Contagion"
2013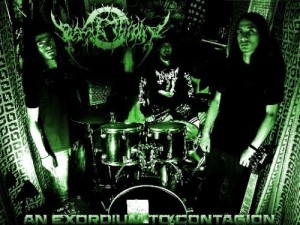 The short EP starts off with an incredibly punchy array of drum, and then it goes slow, and heavy, really heavy. But then, it transcends to a more technical riffing and very satisfying death metal. The second track has a more mantra feel in its chorus. It feels like I can place them between Sepultura and Dying Fetus and they won't feel out of place for a single second. The third track has a more sustained rhythm, which jumps to blast beat assault in a very systematic way. I like how the EP finishes with a heavier and slower feel. The vocals are not my favorite, but they are good.
I already mentioned the punchiness of the drums. The whole release is tight, punchy and masterfully mixed. The inclusion of multiple vocal layers and the way they are spanned around the guitars indicates the effort taken in recording. The bass is rich, but nod muddy and the high frequencies are there without needless hissing. Seriously, the sound of this album should be a benchmark for death metal.
The album cover is simple, just the band, it shows what they are. Just a group of musicians doing there thing, I can respect that.
Will I listen to it again? Not only that but I look forward to more releases from this promising band. However, they seem to be active from 2006 with only an EP to show. Pity.
Tracklist:
1. The Pretentious and the Deceived
2. Burn
3. Present Chaos
4. Sinking Higher
https://www.facebook.com/plaguethroat3
https://www.reverbnation.com/plaguethroat3
Members:
Iaidon Jyrwa – Bass
Malice – Drums
Naugsan Lyngwa – Vocals/Guitars
Rating: 8 out of 10
~Carnivean