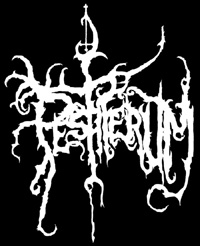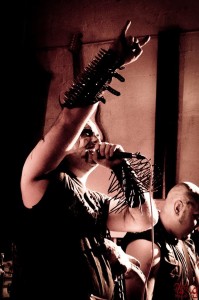 Summon: How did the band get started?
L'infâme: The band were created by Spernax and I( L'infâme) ten years ago. We already enjoyed Immortal, Darkthrone and so at those times and we decided to create our own band.
Summon: What kind of music do you play?
L'infâme: At the early times, we've played pagan BM with epics melodies like windir for example. Quickly we changed the course to create pure black metal with darker and dirtier riffs & lyrics.
Summon: How has the fan response been?
L'infâme: To be honest, we compose and play the music we want to. If one person likes our songs, it's good for him, but the Pestiferum's members are the only listeners we want to satisfy and we are not very attentive about the fans' opinion.
Summon: Where did the band name come from?
L'infâme: Pestiferum" means "touched by the plague" in Latin. It was how we saw ourselves at the band creation. We are putrid rats hailing death and plague beauty.
Summon: Introduce the band members and what they do in the band. Who writes the music? Lyrics?
L'infâme: As stated above, Spernax and I (L'infâme) are the former members of Pestiferum. I'm the main guitarist and I compose melodies and write lyrics. "Spernax" is the holy Pestiferum's singer. He helps me for selecting riffs and the sing establishment. Our drummer named "Cerfzébuth" participates in the songs' structure. Lately two new members entered the band, "Le bouilleur d'enfants" as second guitarist and "Balkor" as bassist.
Summon: And where do the lyric ideas come from?
L'infâme: Since I was young, I love medieval tales, this religious universe with his demons and superstitions, wars and illness…  a very dark part of our past. I've just to write what I think. I try to create a dark medieval universe and if it's putrid and deranged, I'm satisfy.
Summon: What is your view in Satanism and Occultism?
L'infâme: It's a folklorik universe I like… but in my case I can dissociate reality and phantasm. Devil is in everyone.
Summon: How many albums/CD's have you released?
L'infâme: We've released two full lengths "Solstice d'hiver"in 2009  and "Les déchus du fléau" in 2013. Two Discs, with Sigillum Diabolicum, Luci Tristis in 2010 and Fhoi Myore in 2012  and our first demo in 2004.
Summon: Tell me about some the songs on the latest CD?
L'infâme: The last CD "Les déchus du fléau" contain twelve songs very different, classified in three levels: first is classic black metal to introduce the location in time, second more power as the outburst of plague… and third is the darkest, when no one is breathing. It treat always about plague universe, we wanted an CD filth and it sounds illness.
Summon: Do you have any side projects?
L'infâme: We have few side projects. I sing in "Ruines Humaines "a little black metal project, Balkor have many bands "Mourning Forest", "Halsfang", always in black metal vein. Spernax is playing Mexican harmonica like "the good, brute and ugly";)  But our main project is Pestiferum. The personality of each member add madness to music.
Summon: Who are some of your musical influences?
L'infâme: Our influences are not only black metal; of course we enjoy the classic Norwegian scene but also King diamond, Motorhead, Elvis, AC/DC. I like German black metal like Luror, Moonblood… In each style of music something sounds dark and evil, music is emotional feeling and personal perception.
Summon: Which current bands?
L'infâme:  I don't really know actual band, they sound modern, brutal and quick…, I love old bands which sounds like a chainsaw.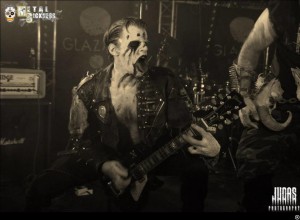 Summon: What is the band like when you play live? Have you guys ever played in another country?
L'infâme: For the moment we only play in our country. We have got few dates with great bands like Himinbjorg, Endstille, Nargaroth… maybe Watain soon. it is a good experience to see the masters of the genre, we learn a lot of them
Summon: How big of crowd shows up at shows usually?
L'infâme: It's always little underground concerts, I think between 100 and 150 people. The bigger was 250 persons with Nargaroth.
Summon: How is the crowd response when you play?
L'infâme: In my opinion, if only one person really like our music, the concert was good! One lion is better than 1000 sheep's.
Summon: What do you think of the US Black Metal/Death Metal scene?
L'infâme: I like US death metal scene, there is a lot of very good bands, but in black metal… I know Judas Iscariot and Grand Belial's Key… other are… a bit commercial in my opinion or I don't know them.
Summon: What do you think of the Overseas scenes?
L'infâme: Black metal can be played by someone who has something to say with guts, so anyone. Music level and dexterity mean nothing. in my opinion this music is conducive to the European continent by his culture and history.
Summon: What are some of new favorite black metal/death metal bands?
L'infâme: Maybe that's wrong of me but I remain in the old school and I don't know anything about the current groups.
Summon: When do you guys plan on writing any new material?
L'infâme: We started to write some songs for an upcoming album about venereal Diseases , I think at the end of the year maybe we will offer something new to listen to
Summon: What does the future hold for the band??
L'infâme: We were offered a lot of concerts in France, in Austria and in Germany. we would like to play more but the music is a passion and not a professional activity for us
Contact them at:
https://www.facebook.com/pestiferum.tarn
https://myspace.com/pestiferumofficial