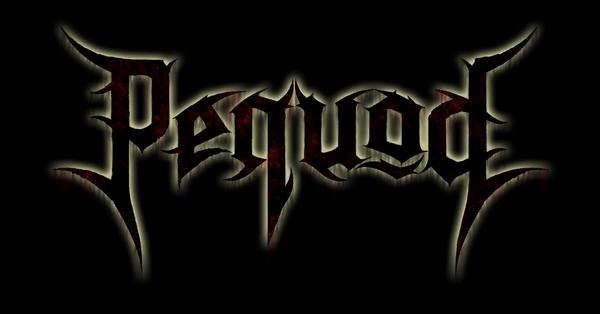 Summon: How did the band get started?
Daniel: In 1998, we founded a project called 'Nightmare View'. Because of the good feedback for the first gigs, we decided to progress more serious. As our former singer did not want the band to have a typical 'heavy metal band name', we chose 'Pequod' (as the boat in the novel 'Moby Dick' by Herman Melville).
Summon: What kind of music do you play?
Daniel: In our teenager days, we have been strongly influenced by American Thrash and Swedish Death Metal – and this is what we use as source for our music. / – and this is what we use for our music. As we do not fit into a known metal genre, we call our style: Vortic-Death-Thrash-Metal. This describes our sound best: fast, groovy, and brutal!
Summon: How has the band response been?
Daniel: The reactions to our new album have been great so far. We receive mails from fans daily and quite a good number of positive CD reviews from all over Europe. This makes us proud and is motivating to stay on course. We have even been rated on rang 41at the Amazon Speed & Thrash metal rating – which is not bad for a newcomer, I guess. The biggest surprise was to receive 6 out of 7 from the German Metal Hammer so far.
Summon: Where did the band name come from?
Daniel: The name is derived from Herman Melville's novel Moby Dick. Pequod is the name of the boat of Captain Ahab who was chasing the wale full of hate. The name fascinated us and we like that the meaning of the name is not obvious immediately.
Summon: Introduce the band members
Daniel: Roland Wagner on Vocals . A tremendous singer and frontman who performs great shows on stage. Roland joined us about 2 years ago. And he became a Daddy (a girl) two weeks ago! Congratulations!!
Kris Samdol on Bass. He is our youngest member. A classically trained bassist, who introduced infinite potential into the band. His roots are anchored in the American Bay Area Trash, what you can hear pretty well in his lines out. A tough guy!! He came to us simultaneously with Roland.
Stefan Hieber on Drums. Stefan is in his person a very understated type. But hardly sitting in front of his drums, he turns into Mr. Hyde! Then he lets go of the volleys, has been pointed some other drummer to his place. A highly explosive guy, who knows how to bring every groove on the spot. Whether with Blast Beats or Halftime Moves. Pure Understatement!
Jens Burbaß on Guitar. Since more than 20 years I share with Jens the passion of making music. We both started at the same time to learn guitar and have completed our first steps together in bands. Thus we are very attuned to each other and know what and how the other thinks. This simplifies the songwriting tremendously. A symbiosis if you want to call it so.
Daniel Kirstein on Lead guitar. I became to the band leader accidentally like. But I like it .I try to keep everything well balanced. I mean to set all minds and opinions in the band into one direction. It's not easy some times but it pays finally.
Summon: Who writes the music?
Daniel: I composed the songs to 80 % by myself. Jens contributed the remaining 20%. Thus the songs are partly 7 years old and since that time our Lineup has changed. I'm rather curious how the joint work to the next album will be. I think now everyone of us has the opportunity from the beginning to integrate in the song structure. And I hope that this accelerate the process because our last release to now lies almost 7 years back.
Summon: And where do the lyric ideas come from?
Daniel: The lyrics are from Roland. The lyrics deals mainly about fears of different kinds.
My favorite lyrics on this record are "Hunter's Tale" !
Summon: Tell me about some the songs on the latest CD?
Daniel: Bleed and to Death are belonging together. Are one song, which we had split because of the Intro. One of the oldest numbers on the album, which fascinates and impress me always with its own Groove on the beginning of the part. A classical Trash song with a lot of variety and cool arrangements.
Sickness. One of my favorite tracks on the album, which with its Blast beat attacks whipping extremely forward. This song has it all what we want to express.
Tragedy: This is pure energy! Brutal from the beginning. A great melodious number to vent oneself.
To Depart: A mid-temp number, that towards the end takes a surprisingly turn. We've worked long on this track, as it has been difficult for us to decline the speed in order to play slowly tones. It was very worthwhile to indent it.
A Vortical Experience: I guess it's the oldest track on the album. I think, that can be heard out of the song structure. We anticipated we have made very worry concerning the compilation of the songs. Thus that 7 years lie between the compositions, we have feared this could develop to the detriment of Forgotten. We've finally decided to record everything and not to throw anything away. This is what it makes the charm of the album. This was the right decision. Isn't it ?
Forgotten: Our title track. Jens had the idea for this for us untypical lead riff a couple of time in his mind spinning around and we thought that every good rock album needs a Ballad. So we ventured to arrange and record this track. I find, with a remarkable final result. Finally, one of the most impressive tracks on the disc that also picks up and enthuse equally fans from the doom metal corner. An atmospheric number with addictive potential.
My Redemption: A number we have written a long time ago. But it still has its full eligibility and actuality because of a well-conceived concept. It consists of everything what a good song needs, speed, melody, technique and a bit of blast beat.
Life's a Lie: Short and crisp. This was our concept. A Trash number with drive.
A Hunter's Tale: A homage to the Swedish Death-Metal. This number came to my mind spontaneously in the rehearsal room when Stefan and I improvised simply go out. For this I have tuned my guitar down in order to have more space for experiments. The result was a tight punch which we all are proud of it. Even one of the most popular live numbers.
D.R.O.W.N: This piece was actually thought to be a pure instrumental Outro. Jens had written it completely by himself. But when Roland had heard the hymnal like riffs, spontaneously cool vocal lines came to his mind. And so also this number mutated to a self-contained as same as are more unusual song for us. This completes the concept of the album conclusively and gives the record a very entertaining note.
Summon: Do you have any side projects?
Daniel: Roland sings with his first band Fersting Saliva ( classic Death-Metal) and is currently in studio with the guys. I'm rather curious as we also share the practice room with F.S and could listen to the some of the numbers live.
Kris plays bass and also sings in "Smoke the Sky". Even they are now in the studio. Is a kind of groovy rock music like Down or Black Label Society.
The rest of us simply has no time to tackle more projects. Sad but true. Cause Jens has two Kids and a wife at home and a very stressfully job as well. Stefan runs his own sanitary company and I have still enough to do with Pequod. So it is…
Summon: Who are some of your musical influences?
Daniel: As I answered before, we were heavily influenced by bands from Florida and Sweden from the late 80's to the early 90's. Just as Iron Maiden, Carcass and Sepultura at a time, when the metal world was still healthy.
Summon: What is the band like when you play live?
Daniel: Pure Energy . We try to give our best and we hope the Crowd notice that ! We also try to get a good live sound. That's the Reason why we take our own sound engineer with us on the Road! This is the most important Point for us. To give the people quality much we can. I hate Shows with terrible sound quality.
Summon: Have you guys ever played in another country?
Daniel: Unfortunately we were not so often traveling abroad. I hope that change soon, as we have received very good reviews from the European overseas. So guys, who has an offer for us shouldn't wait any longer and to get in contact with us!! As well it would be a dream for us to tour through the USA!! We are working for it.
Summon: How big of crowd shows up at shows usually?
Daniel: That is very different. At our release show there were more than 300 spectators. I can't give you exact figures, but it could always be something more. In the past we have played with Pro Pain, Napalm Death, Darkest Hour and Cephalic Carnage and of course there were more gusts from the beginning. And even at this point we hope in the near feature to reach more people.
Summon:  How is the crowd response when you play?
Daniel:  The resonances are very positive. We always make an steady effort to improve and learn from mistakes. Even from mistakes we recognized by other bands. Meanwhile we are very well attuned to each other and are constantly working to get bigger shows in order to proof our potential.
Summon: What do you think of the US Black Metal scene?
Daniel: Is there still a BM scene in the States? I like listening to BM and at the early 90's I have heard rather every band and saw them live, who went on tour. Amongst others Absu from Texas on their "Sun of Tipareth" tour in a small club, 100 Km away from Munich. Does this band still exist? It was a fantastic gig! Just recently I watched the ingenious documentary "Until the Light takes us". And there were American musicians generally not in a bright light. Indeed, the Scandinavian scene sees itself as the only true one. The musical dispute between the USA and Europe has never interested me particularly. Nevertheless I rather have listened to Acheron, Absu, Deicide and Usurper and I still do it.
Summon: What do you think of the Norwegian and Swedish scenes?
Daniel: Who has been to Sweden or Norway knows that in the specific sense there doesn't exist "a / the scene". It' not like that all known stars are hanging around in pubs. To this end the bands are very scattered in small villages without significant infrastructure. Generally it is in the nature of the issue that so many genius minds are coming from there. In Sweden for instance, a musician is subsidized from the state. This makes it easier to make music and explains a lot. Generally this scene was and is trend-setting for the metal world on a high level and existential important for Black and Death-Metal in Europe. Maybe the world?
Summon: What are some of new favorite black metal bands?
Daniel: Except Keep of Kalessin no further BM band come to my mind at the moment, which could inspire me since the magic moments of in the 90's. And end of the 80's Sorry…
Summon: Any plans on writing any new material?
Daniel: Of course. We are already tuned to the first songs and hope to have record these to the latest of mid next year. After the CD is before the CD! We are more motivated than ever and we will stir up the metal scene with a further release by all means.
Summon: What does the future hold for the band??
Daniel: We plan a small tour at the end of the year through Germany. We also try with a bigger record label to get into business that enables us to drive a solid promotion. Playing good is not everything. Without the manpower on the part of a major label it is almost impossible nowadays to be properly announced and to go on tour abroad. Otherwise, play and play play again live… beside to get a clear head and write great new songs!


Many thanks for the Interview !! And sorry again for the delay !
Contact them at:
https://www.facebook.com/pequod.band/timeline
https://plus.google.com/+PequodEu/posts
https://soundcloud.com/pequodm-nchen
https://www.youtube.com/user/PequodOfficial