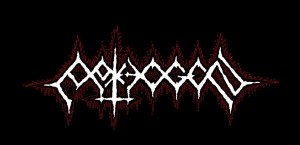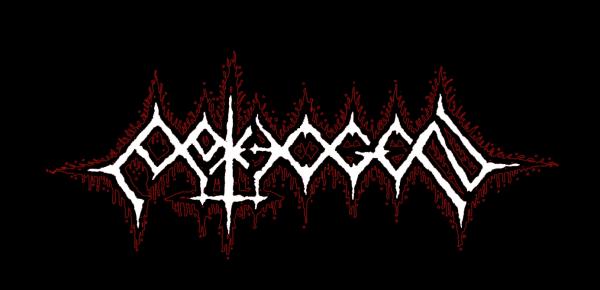 Summon: How did the band get started?
Willie: Some people might be surprised but actually Pathogen began its abysmal musical odyssey here in the dull depths of mediocrity of San Pablo City, Philippines as a side project in the beginning of 2001. I was playing in a band prior to that called Effluvium, which later became Negatron and we have just recorded our debut demo "Genesis Of Our Conquest" in February of 2000, after which, things stagnated and we were suffering from line-up difficulties. I tried hard to keep the band together, recruiting new people, writing new songs, booking local shows but things weren't really happening, so by late 2000 I was searching for a new outlet for my frustrations and musical visions and I thought of forming a side-project just to fill the void. It took a while to find the people to jam with but by January 2001 Pathogen was already practicing as a 3 piece and then we added another guitar player in March and it really snowballed from there onwards and we started taking it very seriously. We recorded our first demo tape in July 2001 spread them all over the underground demo trading network of fans, fanzines, and bands, etc…we experienced several line-up changes over the years, recorded a few more demos, three albums, and several split releases and the rest is what you call 'history'. I never expected that we would ever last this long and still remaining as vital and as hungry as ever.
Summon: What kind of music do you play?
Willie: Ugly, fast, grinding, ominous, dark… I would define our music as 'death metal' but we do have a very wide spectrum of influences from all across the extreme metal sub-genres from thrash, black, doom, old heavy metal, grind, crust punk, etc.. . and we sort of meld them all down in this musical melting pot when we write music. Playing this kind of music is almost second nature to me as much as breathing-because it reflected the kind of things that I went though while growing up, that feeling of hopelessness, utter darkness, loneliness, depression, frustration-all the things that are encapsulated within living in a dysfunctional working class family and neighborhood. That very heavy dark and evil music provided much-needed solace and catharsis during my youth, and still, even today, although it has taken me a while to properly learn to execute it but when I did I made full use of it, of course.
Summon: How has the fan response been?
Willie: Well, since the release of "Forged In The Crucible Of Death" CD in 2012 and the "Lust Of Evil" MCD (Both on Old Temple, Poland) and "Miscreants Of Bloodlusting Aberrations" CD (Dunkelheit Produktionen, Germany) in 2013, fan response has been really wild. We are able to reach more people and infect them with our death metal plague! Reviews and interviews from fanzines, magazines and E-zines all across the planet have increased ten-fold since then! It was finally great to have world-wide distribution. Before that we worked only with small independent record labels with small overseas distribution and we never had the kind of promotional push that Old Temple and Dunkelheit Produktionen has given us. Hell, they even hired a PR firm to push our releases! That kind of thing was quite unheard of for a middle-of-nowhere band such as we are! In the early days it was all very grassroots type of thing you know, find contacts in fanzines write and send several letters and demos a week to other bands and fanzines everywhere just to get that name out there, although I still go out and send stuff out almost every week to overseas contacts for review or trade, but the internet definitely made contacting people a whole lot easier.
Summon: Where did the band name come from?
Willie: It's just dumb name really, very simple. Not a whole lot of meaning. We just wanted something that would be synonymous with death metal or death itself. But somehow, we grew into our name and the music kept on spreading like the plague!
Summon: Introduce the band members and what they do in the band.
Willie: Well, since March of 2012, the Pathogen line-up are comprised of Nino Jerome Aranza on Bass Guitar, Jervish Alcos on Lead Guitar, Vic Jarlego on drums, and myself on Rhythm/Lead Guitar and Vocals.
Summon: Who writes the music? Lyrics?
Willie: I always enjoyed writing the lyrics, so that one's my department. As for the riffs and the arrangement of the music, it's more of a collective effort since putting together the songs is our most favorite group activity.
Summon: And where do the lyric ideas come from?
Willie: Much of Pathogen's lyrics come from everyday things that I encounter. For instance, just watch the news and it won't be long until you'll hear about something totally gruesome and appalling being reported. I would take the cue and put a weirder twist to it. Man's inhumanity to his fellow man, absurd and twisted fetishes for carnal lust, endless brutality of war, rabid fanaticism and idiocy of religion, are the lyrics that we often discuss with our music. But of course, we add some aspects of classic death metal lyricism to it, such as the stark hopelessness, fear of the unknown, mysticism of the occult and the premise of a grotesque death-things that would disrupt the superficial banality of the pop-idol addled commercial culture that we're all living in.
Summon: What is your view in Satanism and Occultism?
Willie: I tend to think of Satanism in a more symbolic terms-meaning, it's the opposite of hypocritical teachings and dogmas of organized religions. And that idea lends itself very well in a musical form such as metal because metal is dark, loud, raucous, heavy and unacceptable to the vast majority, outcast music in short. It is music for the free-thinking individual who is not afraid to take his own path and question authority. I never thought of Satanism as a religion. For me it always symbolizes the opposite of religion-freedom to think and choose without the dictates of religious leaders and such. As for occultism-it is really more of a form of worship. But I never bothered about any religions, you know.
Summon: How many albums/CD's have you released?
Willie: So far we have released 3 albums "Blasphemous Communion", "Miscreants Of Bloodlusting Aberrations" and "Forged in The Crucible Of Death", plus countless split releases, demos and EP's. And there will definitely be more in the coming years!
Summon: Tell me about some the songs on the latest CD?
Willie: As for our 3rd and most recent album, "Forged In The Crucible Of Death" (Old Temple, Poland, 2012) we decided during the song-writing process that we'll put back some of our old Celtic Frost/Hellhammer, early Tiamat influences which were very much prevalent on our first demo, "Invoking Disease". We figured it would be a nice idea to add some of that stuff in our current songwriting since it was our tenth-year anniversary album.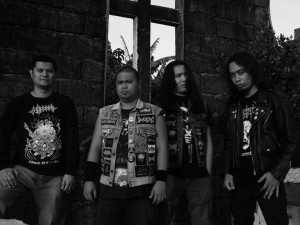 Summon: Do you have any side projects?
Willie: I played in various side projects before, but during the past few years, I decided to keep my focus purely on Pathogen. But since last year I've had some spare time to kill and decided to form a black/death side project in the vein of old Greek and Swiss bands such as Rotting Christ and Samael with a bunch of old f(r)iends from our city who are not involved in any other band(s) that I've played and are playing with before or since. That of course, became OMENFILTH and we recently released our debut demo out "Diaboli Mortuo Infinitum"…We have no plans of making this a serious band yet, but who knows? Pathogen will always be my number one priority.
Summon: Who are some of your musical influences?
Willie: We all love METAL in all its forms from the classic heavy metal of the 70's and 80's to Thrash, Black, Death, Doom, Grind to some Punk/crust/D-Beat stuff, 60's and 70's progressive rock and others. And we all take ideas from each sub-genres when it comes to our songwriting. As for me personally, metal or extreme music, in general seems to always be intertwined with extreme sports-or it was back in the 90's. We were kids riding our BMX bikes and Skateboards and somebody would always play some punk or metal cassettes when we hang out and my interest in that music just snowballed from there. We don't exclusively listen to metal when we write our music, we also listen to other forms music as well, but our more immediate influences that directly influence Pathogen's sound are late 80's and early 90's death metal. Bands like Autopsy, Repulsion, Grave, Asphyx, Morgoth, Pestilence and Dismember and such other bands.
Summon: Which current bands?
Willie: As for current bands, I really like Necrovation, Moder, Anatomia, Demon Throne, Deathevoker, Whipstriker, Beast Petrify and a few others. I never really listen to a lot of new bands mainly because there are just too many of them and I just couldn't keep track of all of them anymore.
Summon: What is the band like when you play live?
Willie: When we are in the 'zone' and the sound system upstage are working fine, then we can really deliver some punishing, mind-blasting performance and the crowd would go wild. But there are also nights when we are really struggling. Nevertheless, we give our 666 percent every time we play live. We don't half-ass anything,.
Summon: Have you guys ever played in another country?
Willie: There have been many invitations from various different countries from Malaysia, Singapore, Thailand, Bangladesh and even Germany but we still have to find the right deal. I guess we will have to wait for the perfect time to come for us play overseas, or maybe do a tour! The fact is our releases has reached pretty much everywhere and we never been anywhere outside the country
Summon: How big of crowd shows up at shows usually?
Willie: More often than not, it is usually in big cities such as Manila where we play live. In small pubs or bars-the rock bottom of the so-called music industry. Crowd attendance very rarely reach past 100 people on any given event except when foreign bands or bands from other provinces are playing.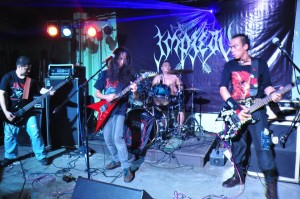 Summon: How is the crowd response when you play?
Willie: There are times when the crowds are going totally wild with a lot crazy shit going on. Other times they're just standing there staring at us. It really depends on the place or the type of crowd in the venue. But anyway, it doesn't really matter if we're playing in front of 5 or 5000 people. What matters is we give our absolute best each time we play live.
Summon: What do you think of the US Black Metal/Death Metal scene?
Willie: I'm not too keen anymore on the US black metal or death metal scene there's too many bands and I just can't keep tabs on everyone these days. When I was doing a fanzine in the late 90's I was in contact with some American black metal bands like Crimson Moon and Blood Stained Dusk, etc. And I was listening to several great American black metal bands back then like Averse Sefira, Absu, Black Funeral, Imprecation, In Memoriam, etc. As for the death metal scene there's some sort of an old-school death revival in the US underground as I've been reading in fanzines as of late.
Summon: What do you think of the Overseas scenes?
Willie: The scenes in South East Asia, particularly in Malaysia, Thailand, and Indonesia are great! And Europe still is the Mecca of everything that is underground and metal. There are waves upon waves of bands releasing great music, making fanzines, trading, etc…It's become a very large self-sustaining community with its own artwork, sound and literature.
Summon: What are some of new favorite black metal/death metal bands?
Willie: Not very many these days, in all honesty, Mantak, Zygoatsis, Teitanblood, Wrathprayer, are some of the more recent stuff that I like.
Summon: When do you guys plan on writing any new material?
Willie: Actually, we are continually writing and as much as we can, rehearsing newer material. We're constantly thinking of new riffs or ways to improve our sound. We wanted Pathogen's music to develop, yet at the same time we wanted to retain that primal rawness that we have since our inception.
Summon: What does the future hold for the band??
Willie: Our 4th album is already recorded and mixed since last year we're just waiting in line for the label's release schedule. We also got some more recording projects for next year for a few split releases, etc… After that, I don't know. I don't want to project too far into the future. I hope we could finally do a European tour soon.
Thanks for the interview!
Contact them at:
Maniacs get in touch!
Pathogen c/o
Willie Desamero #4M. Fule Sahagun street, San Pablo City, Laguna 4000 Philippines
Email:
pathogenic_virulence@hotmail.com
omenfilthhorde@gmail.com
Anti-Spcial Media:
https://www.facebook.com/pages/Pathogen-PH/177645992334222