Overtorture
"At The End The Dead Await"
2013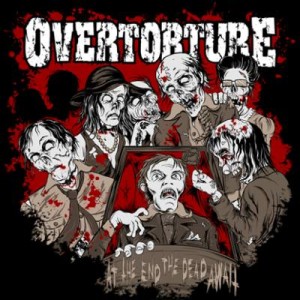 Album released on January 25 2013 through Apostasy Records. They are a five piece band from Stockholm/Visby/Örebro. Genre described as death metal.
This is the bands first album. My first impression, devastating and intense from the first song. In terms of production, its a well polished slab of brutality. The group manages to embed classic style DM riffing and add a tinge of modern DM arrangements. Solid performance on the drums, killer double bass work and intricate rolls can be heard through each composition. Guitars are heavy and are blended in the mix to compliment each other perfectly making harmonies very distinct to the listener. Vocals are aggressive on the mid range of the DM spectrum.
The music is a mixture of influence from the musicians whose background include the bands- Grave, Coldworker, Demonical, The Ugly and Witchery. An embodiment of all these elements is sure to make monumental waves in the metal underground.
Although I enjoyed each and every track, some of the most notable songs would have to be Suffer As One for its catchy chorus and intense sharp turns that will have you headbanging. The title track At The End The Dead Await, for its epic sound through the entire composition, is worth spinning several times. The song The Outer Limits, for its classic death metal sound brings back good memories of the early nineties DM style.
In conclusion, the album is pure brutality the way its meant to be, not over the top, just a straight forward assault to the senses. I recommend it for fans of Benediction, Sinister, Immolation, Death, Suffocation, Vader, Krisium, Gorefest and Grave.
Tracklist:
1. Black Shrouds of Dementia
2. Murder for the Masses
3. Slaves to the Atom
4. The Outer Limits
5. Targets
6. The Strain
7. The Coming Doom
8. Towards the Within
9. Suffer As One
10. At the End the Dead Await
https://www.facebook.com/Overtorture
Members:
Joel Fornbrant – Vocals
Magnus Martinsson – Guitars
Andreas Hemmander – Guitars
Joakim Antman- Bass
Oscar Krumlinde – Drums
Rating: 7 out of 10
~Artemortifica