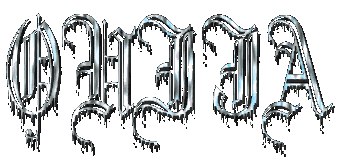 In 1994 from the ashes of LEVIAL, OUIJA was born; with the next line-up Baret (bass), Danny (drums), Map (guitar), Ferriz (keyboards) y Midgard (vocal), the band needed another way to communicate their feelings and the different changes about the concept of their music in that moment. After two years of rehearsals, their first official demo, which was recorded in 1996,arrived at Repulse Records, which decided to sign up the band immediately to release their work Riding into the funeral paths in 1997.
With this work they got a status of underground cult band in Spain as well as abroad, being in their country a pioneering national band of Black metal with great quality and international projection.
Thanks to it the band also performed in concerts across Spain, getting a never-ending legion of fans.
In the year 2000 OUIJA recorded their second album, with a lot of changes in the original line up…after having recorded this second album, the band was dissolved and this work wasn't released.
After a decade of silence the Spanish Black Metal Band OUIJA returns to the fray with new material and stronger than ever, fusing their strengths once again Map the founder guitar and brain of the compositions of the band, with the vocalist of the original line-up Midgard. In this new stage, three members of Spellcraft; Fulgur (drums), Aldromk (bass) and Murcilag (guitar) joined the band so the line-up is totally completed.
In the following autumn the band will began to record a mini-CD which will be launched by Spanish Record Company XTREEM MUSIC at the beginning of next year that will be the preamble for their long play that will also be launched by the above mentioned label during 2011& Black Metal with old flavour but with OUIJAs own sound and up-to-date at the same time; aged for many years in the depths of the hell…
The eagerly-awaited return of Ouija will be in December of 2010 is now embodied in form of a 4-song mini CD entitled "Adversary" which was recorded at Moontower Studios by Javi Bastard and later on mastered at famous Swedish Unisound Studios by Dan Swan? resulting on an astonishing recording which shows the most intense and darkest side of OUIJA as well as keeping these awesome melodies and great song structures which will for sure please not only every long time fan of the band, but every lover of great quality Black Metal!!