Omnifariam
"Vitiate"
2016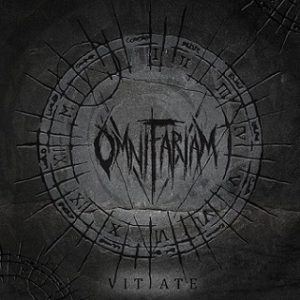 Death metal with all the right moves, Omnifariam's Vitiate (2016) has a lot to offer in a fairly small package of a mere 5 tracks. Originating from San Juan, Puerto Rico, Omnifariam have come with the ultimate purpose of flowing into your cranium at maximum force.
This EP starts out with a quaint melody to cleanse the palate before you free fall into their head-bobbing rhythms featuring staccato riffs and blast beats. Giving off lots of reminiscent tones of Behemoth and Napalm Death to start.
'Our Reckoning' is a highlight off this EP, providing you with all the death metal personality while still making sure you feel their barbarous aggression through the gift of Eric Martinez's guitar prowess, along with the generousness of a slight thrash tone as well.
'Thorns of Abomination' is a masterful song, heavy, slick and full of bad-ass riffs. This has to be one of the best songs off the EP, definitely. Great drumming coming from Felix Vega who makes you want more as the songs progress with lots of thick but steady double pedaling and blast beats but without over compensating. Vocals from Gabriel Muñoz on track are thick deep growls and effective lyricism; it's just the right tone and feel.
Lyrics throughout the song, 'Into Oblivion' gives you a responsiveness in its tone. The feeling of perdition, of being controlled by fear is prevalent while remaining engaging enough to not to make you lose your attention. Bassist, Jorge Hernandez keeps in line on this track not standing out but giving his full backing to this song revealing the true brutal it has been dying to unleash.
Full of pure gusto and power, this EP isn't necessarily every headbangers cup of tea, nor is it anything earth-shattering or overtly innovate in terms of style, but Omifariam have a great feel and truly intriguing value that will put them on your to watch list for sure.
Tracklist:
1. The Beginning
2. Our Reckoning
3. The Sound of Death Itself
4. Thorns of Abomination
5. Into Oblivion
https://www.facebook.com/Omnifariam
https://omnifariammetal.bandcamp.com/
Members:
Gabriel Muñoz – Vocals
Eric Martinez – Guitar
Jorge Hernández – Bass
Felix Vega – Drums

Rating: 7.5 out 10
~Lethal Lillian