Oligarquia
"Distilling Hatred"
2011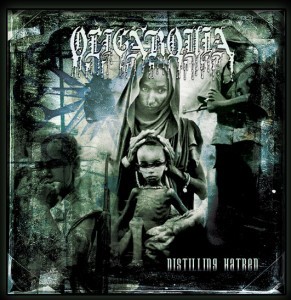 Oligarquia is a Brazilian Death Metal band from Sao Paulo. Yet this album is a little bit old to do a review as the moment, it is their most recent one. Hopefully they are working on the next one. However this album has a lot of strong points in it.
The drummer does a lot to make the album a really great one, cannot wait to hear what else he has in store. Even on their instrumental song "LxOxVxE". As vocalist also get some screams in there from time to time. I think to end the album with "Abyss of the Hatred" was well designed.
If you are into Death Metal that isn't all into the growling this is definitely the album for you. Check these guys out.
Tracklist:
1. Intro
2. When the Hate Dominate
3. Ignorance Prevails
4. Bloody Ideals
5. Comsumed By Greed
6. LxOxVxE (instrumental)
7. World In Convusion
8. Untill the Next Day
9. Here Comes the Pain
10. Cerebral Atrophy
11. Owner of the World
12. Abyss of the Hatred
http://www.oligarquiadeath.com.br/
https://www.facebook.com/oligarquiadeath
Members:
Artour Queiroz – Bass
Guilherme Sorbello Lopes – Guitars/Backing Vocals
Panda Reis – Drums
Victor "Pancho" Munhoz – Guitars/Vocals
Rating: 8 out of 10
~Sam