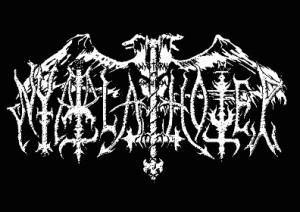 Summon: How did the band form? How did it end?
Abyss: Nyarlathotep was born in late 2003. Created by David and me (Abyss) to pay homage to darkness and death. Later enter Lord Hassissin. During almost 3 years we essay and record several tracks but finally due to personal problems with David the band came to its end, it was necessary to end the band, unluckily…
Summon: Introduce the band member and tell me what each member does?
Abyss: Lord Hassissin (Vocals)
David (Vocals, guitars and drum machine)
Abyss (Bass)
Summon: How did you guys come up with the band name?
Abyss: The name was an idea of David, but our lyrics and concept had nothing to do with Lovecraft.
Summon: What are some of your musical influences?
Abyss: Mainly the old Scandinavian bands.
Summon: Any other type of influences?
Abyss: Darkness, filthiness, alcohol, despair…
Summon: What did you set to accomplish with the band?
Abyss: We wanted to express some of our internal feelings with the band, it was a way to spit on the face of the humanity.
Summon: How many albums/demos/CD did the band record?
Abyss: We recorded 15 tracks that were destined to release 2 demos but the band didn't work well and never released those tracks.
Summon: Tell me about some of the songs you guys recorded?
Abyss: The first stuff contains a very strong influence of the necro sound of bands like Darkthrone or the first Abruptum's album, with agony voices and howlings, a total filthy and disgusting sound. The previous and last tracks were instrumental tracks (the voices never were recorded) and were more surrounding and with a more dark atmosphere.
Summon: Who wrote the majority of the music? Lyrics?
Abyss: The most music were written by David (but we also contribute with some ideas, one track was written exclusively by me). The lyrics were also a work of David, written in a fictitious language influenced by H.P. Lovecraft (in spite of that, it never was an influence in our sound or concept)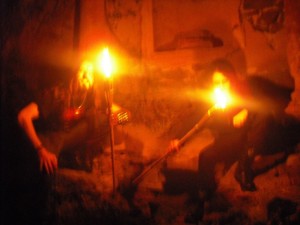 Summon: Would you ever want to do a tribute song or CD something to say your final goodbye to the fans?
Abyss: I don´t like the word "fans", nothing to do in the black metal cult I think. All the spirits interested in our shit, will can hear our stuff finally released by Obscuratio Prod. (SUPPORT!) in a strictly edition limited of 100 pro tapes. It will be out during this year, so be attentive!
Summon: Did you guys ever play live?
Abyss: No, we never played a gig but it was an idea for us, we were rehearsing for it.
Summon: If you could do a legacy video what would it include?
Abyss: I have thought about it many times but I don´t know if it is necessary really. But I think it could include some elements appropriated to our sound. Maybe a very sick video with desolating images to scare the human eye.
Summon: What are some of your favorite new bands in the underground scene?
Abyss: I´m always looking for new bands but due to the actual saturation, it is increasing difficult to find good bands. Some bands that I canrrecommend now (all not are new bands really) are Eterna Penumbra, Animus Mortis, Nocturnal Hell, Mare or Grave Miasma.
Summon: What do you think of the US Black Metal scene?
Abyss: Always you have had great bands, some of them are cult bands nowadays: Judas Iscariot, Von, Krieg, Xasthur, Krohm, Nachtmystium…
Summon: What do you think of the Overseas Black Metal scene?
Abyss: I think there are very good bands (also very bad bands) but the problem is that there are many bands. Today someone can record a demo in his home and saturate more and more the scene with unnecessary releases…
Summon: What is the advice you can give to a band starting out?
Abyss: Try to make your own personality, try to follow always the true path and never let the black flame disappear.
Summon: Do you ever miss being a active band?
Abyss: Well, were great times but nowadays we are more advanced individuals and Nyarlathotep due the personal problems which led, would not make sense today.
Summon: Do you ever think about reforming the band?
Abyss: NO
Summon: Any future plans of a new band?
Abyss: Maybe in the future will be some new evilness, who knows? Maybe the destiny will walk…
Contact them at: 
http://www.myspace.com/nyarlathotepbm