Noumena
"Death Walks With Me"
2013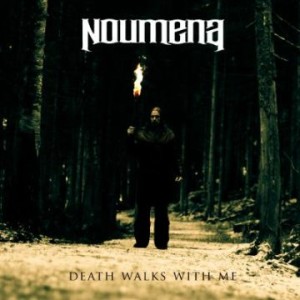 Noumena, Death Walks With Me album released on April 2013 under the bands own label Haunted Zoo Productions. This is the groups fourth album and fans have waited a long time for this, almost seven years to be exact. Hailing from Finland which is home to many established acts such as Trace Dawn, Insomnium, Cadacross and Omnium Gatherum.
The album features eleven songs. My first impression is excellent production quality. The drums are clear and upfront. Guitars have a warm yet aggressive tone. All the arrangements are elaborate and cohesive. The first songs establish a solid and melodic template with a good range of vocals that are sometimes low (death metal style) to strong mid- range and a tinge of highs in the right spots, you can hear a good example of this in the song Play Dead. There is also a good amount of female vocals by Suvi Uura on many of the tracks but you must listen to the song Sleep, which in my opinion highlights Suvi's vocals very well. The title track Death Walks With Me leans on the more aggressive death metal side of the spectrum compared to the other songs. Harmonies and a wide array of instruments can be heard through out, from piano, keyboard, French horn, Choir, Tambourine and even egg shaker, there is much for our ears to explore in the vast landscape of sound these talented musicians are creating on this album.
Although I enjoyed the entire album some songs that stand out in my mind are Only The Silent which has a strong bass with creative passages and memorable solos. The song Season of Suffocation for its of low vocals and high female vocals combinations and the track Let It Run Red for its catchy chorus and verses.
In conclusion this album makes a big mark on the melodic death metal genre. The blend of instruments and well structured harmonies make it viable to a broader range of listeners. I recommend it for fans of Melodic, Folk, Death and doom metal.
Tracklist:
1.Handful of Dust
2.Play Dead
3.Sleep
4.Death Walks With Me
5.Let It Run Red
6.The Storm
7.Mysteries of Motion
8.Nothing
9.Only the Silent
10.Season of Suffocation
11.Sundown
https://www.facebook.com/Noumenaband
Members:
Antti Haapanen – Vocals
Suvi Uura – Vocals
Ville Lamminaho – Guitars
Hannu Savolainen – Bass
Tuukka Tuomela – Guitars
Ilkka Unnbom – Drums
Rating: 7 out of 10
~Artemortifica