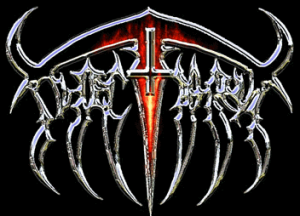 Noctuary was spawned during the mid months of 96′ from the entity known as Summoned. Summoned was raw, chaotic, blasphemous black/death metal with a style all their own. Summoned began it's reign of terror in the summer of 94′ with members: Nick Jones(vocals), Darin Winn(guitars), Sean Ball(bass), and Bart Schmit(drums). After being only a four piece band for six months, they found guitarist Joseph Van Fossen to fill in the gaps. Summoned was then complete. Darin Winn was the main song lyric writer for this destructive entity. After numerous shows with locals and a couple of national acts, Summoned felt that it was time they looked for a new drummer. In the early months of 95′ they found Ian Mclean. Joseph and Ian were already creating together in a side project black metal band that they had formed proir to the departure of the former drummer. After playing for another year, Joseph started writing more songs, all in a more blackened metal vein, and together the band decided that the vocalist needed to go. Joseph would also begin to participate in the songwriting a little more.
After the change in line-up and songwriting, Summoned felt that they were no longer the same band, and therefore, decided to change the name. Noctuary was found as a fitting moniker for this newly created force of darkness. Since Joseph took over more of the songwriting and lyric writing duties, the band went to a more black metal feel. Joseph also took over the duties as vocalist which made the transition complete. Soon came Noctuary's first release, "Where All Agony Prevails", which display's their versatility and originality in a scene filled with unoriginal garbage. Not long after the release of this demo, Noctuary broke up. Ian and Joseph left the band because they felt the lack of dedication in the other members, and went to start another band known as BLACK WINTERS FADING. Slowly Black Winters faded, and Ian and Joseph decided to get back to doing their old songs.
After a some months of being a two piece, Noctuary decided it was time to start playing live again, as they did in Summoned. Soon they initiated Tom Shao, Black Winters bass player, into their ranks as their live rhythm guitarist. Not long after, they found Ed Knecht to be their permanent full time bassist. Now Noctuary wascomplete, and shared the stage with death metal icons Suffocation. A few months later Noctuary took a break. Ian decided to pursue other interests and discontinued playing drums all together. Now they were back to a two piece, since Tom was also busy with college. For a live replacement they picked up Rik Hansen(guitars) and Rob Alaniz(drums) from L.A. death metal icons Rise, and co-headlined a successful show with Mortiis in Northern California. Soon after that, Noctuary was offered a deal with Blood Fire Death(side label of Dark Symphonies distribution) records that they couldn't refuse. Blood Fire Death saw it's unfortunate demise in the early months of 98′. Lost Disciple records was there to pick us up, and released our debut full-length, "For Salvation…"
Rob Alaniz performed session drum work on "For Salvation…" and Rik Hansen did a guest solo on the recording. We also employed the use of Simon Woodhart(acoustic guitar piece) and James Alvarez(backing vocals). After the recording we went through a couple of drumming candidates, unfortunately for us, things did not work out. The CD was released in September of 98′ and sold almost 1000 in the first couple of months. Since the release we've played a show with Incantation/Angelcorpse and opened for Dark Funeral on their trip to California.
Another chapter unfolds within the Noctuary legacy mid-way through 1999. Ian Mclean, an original and co-founding member of Noctuary, has returned to the band on drums. Throughout the past couple of years Rob has played an important role in the progression of Noctuary, and has been a great friend to us. We would like to wish him and RISE prosperity and good fortune in the years ahead!(A thousand hails, brother!!!). Along with Ian's return, Mike Berezny has joined us on guitars. Now, as a complete line-up, we are preparing for a co-headlining show with RISE, and the Milwaukee Metalfest XIII. Following our return from Milwaukee we will be working on new material for our second full length, "When Fires Breed Blood" out on Lost Disciple Records late 99/early 2000.
Noctuary
25 Scrub Oak
Aliso Viejo, CA 92656
https://www.facebook.com/noctuaryband/timeline/