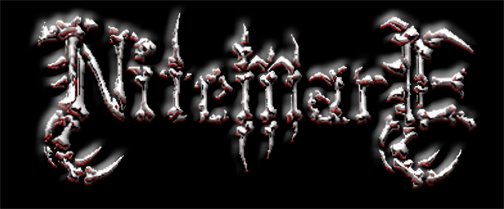 Formed in 1991 by guitarist Ron (Animal) Dane, at the end of Metal's "Glory Years", NitemarE would arrive on the scene in Toronto Canada with a vengeance.
Rounded out by co-founder and rhythm guitarist Damon (Demon) Enright, drummer Ron (Taz) Middleton, and bassist Dave McKoy, Metal fans and local promoters took notice of NitemarE's tenacity on stage immediately.
The fact that the music "Industry" chose to ignore Metal in favor of the new fad called "Grunge", only strengthened NitemarE's resolve with the end result seeing NitemarE's musical evolution go from angry… to really, *"Fuckin" angry… (*-see the new 3-song EP NitemarE just released.)
Being from the "Disco-capital of Canada", at a time when the entire Music Industry was either looking to promote dancy-shit with a beat or the new "Grunge/Alternative" of lesser quality and substance than Metal, is definitely enough to make ANY true-hearted Metalhead really "Fuckin" angry.
In 1993, current bassist, Matt (Splatter) Mitchell, had joined NitemarE. This wouldn't be the first time NitemarE and Mitchell had worked together. In fact, they all knew each other, and Mitchell was playing bass in a band called "P.W. Freak" that had opened for NitemarE on NitemarE's debut-headlining gig to a packed Marquee Club in Toronto.
By 1996, drummer, Scott (Graves) Graves, joined NitemarE and they were dominating the club circuit in Toronto and that year would play the first of many shows to come with Canadian Metal legends, Anvil.
The relationship with Anvil would grow stronger and see the 2 bands share various practice studios/warehouses together over a 10 year stretch and do well over 30 shows together in an around the Toronto and Ontario area. During this time, NitemarE would also befriend 2 other Canadian Metal legendary bands in Exciter, and Razor, resulting in NitemarE playing over a dozen shows with those Canadian Metal legends as well. In fact, it was because of NitemarE guitarist, Ron (Animal) Dane's, relationship between Anvil, Exciter and Razor, that would see those 3 legendary bands all share the same stage together for the first time in Canadian Metal history in Toronto's 2004 Gates Of Hell fest that Dane had put together, organized and promoted.
After playing a gig with Anvil at Toronto's legendary GasWorks club, and as a testament to NitemarE's energy, anger and ferociousness while playing live, Anvil front-man, Lips, said: "Fuck man, you guys[NitemarE] burn out the crowd… by the time we go onstage, they have no energy left. I think you guys should headline from now on."
Having previously recorded demos in Toronto's legendary Phase One studios, as well as Studio 360, NitemarE would record their first full length debut CD titled, "Creation Of Life", at Voodoo Records for a February 13, 1998 release.
Creation Of Life would be released through a company called IndiePool in record stores across Canada, mainly through HMV. Other than Metal mags such as B.W.B.K.(Brave Words & Bloody Knuckles) and Unrestrained, and with zero help from the music "Industry", Creation Of Life would go on to sell some decent numbers, with B.W.B.K.'s chief editor and founder, Tim Henderson, mentioning that sales in the Toronto main downtown store, a store in which he managed the Metal section, were right up there with the top selling Metal acts during the CD's first 3 months on the market.
After this release, singer Juri Rollo would join the band and NitemarE would go on to play a slew of shows and completely devastate the Toronto Metal landscape, ultimately resulting in their second release… a LIVE CD titled, "Full Live Fuckin' CarnagE".
As the years went by, as happens with all bands who can actually stay in existence for years, there comes a number of set-backs and member changes etc, and throughout all of it, founder guitarist Ron Dane, and long time bassist(since 1993) Matt Mitchell have stayed the course and kept their faith in the music that NitemarE creates.
Some of the pay-off of that dedication has allowed Dane and Mitchell to see NitemarE release a few more CDs, do a tour, and play an unbelievable amount of live shows and party(quite hardy) with the who's who of METAL legends including:
Megadeth, Slayer, Testament, Slipknot, Overkill(a couple times), Sepultura, Amon Amarth, Destruction, Mayhem, Nuclear Assault, Prong, Cryptopsy, Infernal Majesty, Vital Remains, Pile Driver, Warbringer, and so on… and that's not to mention the over 50+ shows NitemarE has played over the years with the Canadian legendary trio of Anvil, Exciter, and Razor.
Not too bad for a couple of guys from the "Disco capital of Canada" with only some underground "Industry" help.
Currently, singer Juri (Rollo) Rollo, has rejoined Animal and Splatter, who along with drummer Rob (Scump) Gabriel, round out the current incarnation of NitemarE… (Drummer Scump is also the current drummer for previous-MTV Punk icons, Green Jello(y), who have just wrapped up a North American tour as of summer 2016).
To catch the current NitemarE aggression, they have released a sneak preview of their next full length CD, on a 3-song demo titled "Headin Off To Saudi Arabia" in which the artwork has the distinction of being extremely offensive… to some(that's what a Heavy Metal album cover is supposed to do, isn't it?), while at the same time, being quite hilarious, if you know anything about Star Wars lore.
Currently in the studio recording the full length, those 3 songs are being re-recorded as well, and look to a Christmas or early New-Year Release.
Contacts:
Ron Dane: Tel: 647-993-9844
Email: yornitemare@yahoo.com
Matt Mitchell: Email: splattinhell@hotmail.com
Juri Rollo: Email: Juri3@hotmail.com
Website:
www.Facebook.com/NitemarECanada
(go to "Band Profile" to listen to and download songs from previous NitemarE cd's)