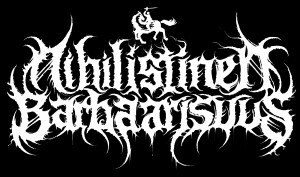 Nihilistinen Barbaarisuus
"Madness Incarnate"
2016
If you're a heavy metal connoisseur and you've been really itching to get your hands on not only new music… but GOOD new music (which let's face it sometimes is difficult to find), please go check out the band, Nihilistinen Barbaarisuus. These guys are an amazing black metal band from Philly, that show so much innovation in every album they release, it's pretty hard not to take notice.

The first track starts off with awesome sound effects of exactly what the opening track is titled, 'Traversing the Frozen North', a fantastic addition to the already incredible elements this band has had from prior releases, "The Child Must Die" and "Synkka Tuuli". You can tell they find at least some influence in metal legends, Immortal and most likely Taake as well. The major thing about bands you want to stay in up-to-date with, is how they are able to take what's been put out and make it new, and Nihilistinen Barbaarisuus do that every time.

"Madness Incarnate" seems to be a more refined look into Nihilistinen Barbaarisuus. They are taking their time and getting it right on this release. The production value on this album is pretty ace and you can tell it was produced with care and mixed to perfection. The vocals this time around are less guttural than prior releases in terms of barbarity, but still give you that same feeling of savage disgust as we are used to with black metal. Reminiscent of Mathias Lillmåns and Jon Nödtveidt put together, Mika Mage has proven he has only gotten better with his vocals over time.

'Madness Incarnate' is an absolutely fantastic track, the guitars are distorted with purpose and at no time sound too crunchy or harsh. Not too technical in terms of riffs but everything is done well and it leads us into one of the best songs off this short album, 'Virgin Essence'. Totally giving us that feel of purity within the darkness that waits to engulf us. The fantastic riffs displayed here are sure to catch your ear. Almost a hint of King Diamond's Andy LaRogue riffs can be felt within this track which makes it a personal favorite.

If you were waiting for your brutally epic blast beats from this sweet band you're sure to find it in 'Immaculate Deconception'. The double bass is extremely brutal but necessary to pull this track through. This would happen to be the most progressive and challenging song from them to do on this release, and they do it very well. The keyboards again are such a great element for this band, the writing of music for the keyboards in this band are beyond compare. They are never over used and are always effective, something that a lot of bands have a hard time doing.

The last track 'Comte-Sponville' is a beautiful instrumental and provides you with a feeling of finally reaching a destination that seemed so far when we first started our journey through the frozen north.

Make no mistake there are some bands you will be upset you didn't know when they were first coming up and Nihilistinen Barbaarisuus is one of these bands. These guys have a lot of promise and if you're someone that wants to be ahead of the curve, check out this album.
Tracklist:
1. Traversing the Frozen North [v. Gary Hadden]
2. Madness Incarnate [v. Joel Robert Thompson]
3. Virgin Essence [v. James Dorton]
4. Immaculate Deconception [v. Gary Hadden]
5. Comte-Sponville (acoustic)
https://www.facebook.com/nihilistinenbarbaarisuus
Members:
Mika Mage: Guitars/Bass/Drum Programming/Synths
Rating: 10 out of 10!
~L.L.
Nihilistinen Barbaarisuus
"The Child Must Die"
2015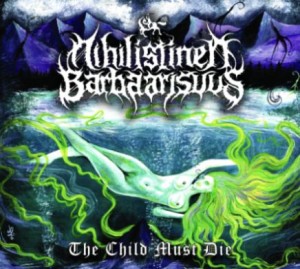 Well well well …..This is quite the bombastic epic romp indeed and definitely a trip down Black Metal memory lane that is for sure . So where to begin …
I can tell you that if you loved early Dimmu Borgir, Limbonic Art, early Ancient and Odium to name but a few then this will have you drooling. 
The orchestration is outstanding and well thought out as are the vocal melody lines, and I have to say I LOVED the vocals, they are scathing and downright nasty to say the least and are delivered with much venom and vitriol. 
The guitars sit perfectly well alongside the keyboards and compliment each other quite nicely plus the overall mix of the record is decent too for a band of this style. 
There is plenty of replay value to be had here, personal faves on this album are " Feast Of The North Farm ", " The Child Must Die " and " Amidst The Waves " which offer quite the variety and aren't complete blast-fests (which i have to admit i love to bits). 
Check this out and pick up the album, its a fine addition to the Symphonic Black Metal family.  Great stuff \m/ 666\m/ 
Tracklist:
1. Wondrous Sampo
2. The Child Must Die
3. Let Them Perish
4. Feast of the North Farm
5. Amidst the Waves
6. Väinämöinen
7. The Night She Died
http://www.metal-archives.com/bands/Nihilistinen_Barbaarisuus/3540354630
https://www.facebook.com/nihilistinenbarbaarisuus
https://nihilistinenbarbaarisuus.bandcamp.com/
Members:
Mika Mage – guitars, bass (2012 to present)
Rating: 9 out of 10
~Death Metal Andy 
Nihilistinen Barbaarisuus
"Synkka Tuuli"
2013
If you want your band to be remembered and searched, perhaps something as long Nihilistinen Barbaarisuusas, and as uncommon the wordage, might make the task rough for potential fans. Their music is definitely part of the vast extension of composition that began back with Burzum. This is Ambient Black Metal to be sure, but influenced by American tundra from the frozen lands of Philadelphia.


Nihilistinen Barbaarisuus has melody, tremolo picking and vocals that are distant and traditional for this kind of music. For an American band exploring this kind of music the sound of the band is really good. The songs are progressive but a little hard to connect with. 
Itameri Anomalia was a track that stood out. It has a more classical influence, and strays from the Black Metal stylings. If you prefer the ambient genre check them out and see what you think. 
While there are three people listed in their band photo Mika Mage is the only musician listed in their bio.
Tracklist:
1. Ylittäen Jäätyneen Pohjoisen (I)
2. Ylittäen Jäätyneen Pohjoisen (II)
3. Itämeri Anomalia
4. Anhedonia
5. Arktinen Välisoitto
6. Synkkä Tuuli
7. Ketamiini

https://www.facebook.com/nihilistinenbarbaarisuus
http://www.reverbnation.com/nihilistinenbarbaarisuus

Members:
Mika Mage – Guitar/Bass
Rating: 7 out of 10
~Alaric Hannibal Barca