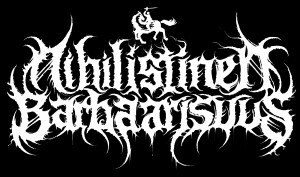 Promo Bio:
Forged out of the icy wilderness of the north, this beast of Helsinki/Philadelphia composes odes of cold subsonics and frigid atmospheres. Inspired by founder Mika Mage's Finnish heritage, the band showcases Ambient Black Metal visuals and atmospheres. Cold, grim, and strangely uplifting, Nihilistinen Barbaarisuus are masters of melancholy.
Straight-forward Bio:
Nihilistinen Barbaarisuus is an ambient black metal act from Philadelphia, PA. It was co-founded by American/Finnish citizen Mika Mage and Manuel Rodriguez in 2012, and has since put out a self-titled promo and LP entitled 'Synkkä Tuuli' (translated as Grim Wind) on Horror Pain Gore Death Productions and an EP entitled 'Väinämöinen' on Infernal Kommando Records. Mika Mage remains the sole remaining founding member and the lone creative force, with the next album (based on the Finnish national epic The Kalevala) set to be complete by July of 2014.
Line-up for 'Väinämöinen' EP
Members:
*Mika Mage (Lawrence's Creation) – guitar, composer
Session Members:
*Lawrence Wallace (Lawrence's Creation, Shadows in the Crypt) – keyboard, drum programming
*M.W.S (Serpent ov Old, Shadows in the Crypt, ex-Evil Divine, Ex-Wykked Witch) – bass
*James Dorton (Black Crown Initiate, Nightfire, Antikythera) – vocal
Line-up for 'Synkkä Tuuli' [LP]
Members:
*Mika Mage (Lawrence's Creation) – guitar, co-composer
*M.W.S. (Serpent ov Old, Shadows in the Crypt, ex-Evil Divine, ex-Wykked Witch) – bass, keyboard, drum programming
*Manuel Rodriguez – co-composer