Nightwish
"Wishmaster"
2000, Spinefarm Records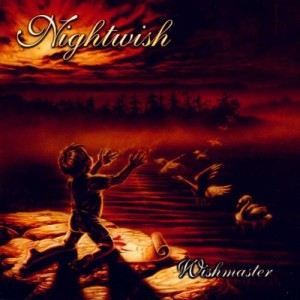 Having not heard of this band before, I was sort of skeptical when I played this album for the first time. Musically this band has kind of a Blind Guardian influence, but with a female lead singer named Tarja Turunen. I sort of like this album, but however, it does get redundant in places. The keyboards are really prominent on this and do tend to drown out the guitars on alot of the compositions. While I do like Tarja's operatic style vocals, they do however sound out of place on the really aggresive parts, like in the title track for example. I think they could benefit the aggressive parts by having another singer sing those parts, because Tarja's operatic style does not fit with that heavy style. That's not to say she sucks. Quite the contrary. Despite those few flaws, I did enjoy this album, and would like to check out their previous albums. Not a bad release.
Tracklist:
1. She Is My Sin
2. The Kinslayer
3. Come Cover Me
4. Wanderlust
5. Two for Tragedy
6. Wishmater
7. Bare Grace Misery
8. Crownless
9. Deep Silent Complete
10. Dead Boy's Poem
11. FantasMic
Members:
Emppu Vuorinen – Guitars
Tuomas Holopainen – Keyboards/Vocals
Jukka Nevalainen – Drums
Marjaana Pellinen – Backing Vocals
Tapio Wilska – Vocals
Rating: 7 out of 10.
~Azazel