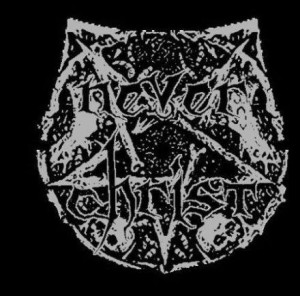 Neverchrist born in April 2000 at Vila Velha city, ES – Brazil, after the end of the Death Metal band Traces of Death. Since this time, the band had several changes of line-up, and releases 5 stuffs, being: Reh Tape 2002 (distributed only for close friends at those times, and most spreaded at 2008 by internet), Latino American Elite of Antinazi Black Metal (2007 – polemic stuff), Corrosive Rivers of Blood (Full Tape 13 tracks 2009 – Viceral Vomit Records – Costa Rica), Infernal Possession EP 2010 and Unholy Spirit EP 2013. 
The band was also released in a Split, together Black Angel (Peru) and Sagrada Blasfemia (Brazil), features 3 compilations: Fortaleza Metal 3 (Anaites Records – 2008) and Headbangers Metal Reunion Vol. II (Music Reunion Distro and Prod. – 2008), Lethargic Torment Compilation Vol. I (Online Compilation – Letargia Subversiva Records – 2013). At May 2008 the band changes to Rio de Janeiro, and pass by more changes in its line-up.
The line-up, currently, are:
Thiago Baphomet: Guitars/Vocals
David Morthimuss: Bass
Fabian Lajes: Drums
The band is rehearsing and prepare new songs, with Thrash passages, to 
record a new album full-length.
Links:
http://myspace.com/neverchristhordebrasil
https://www.facebook.com/pages/Neverchrist-Brazil/127105120647606
https://www.facebook.com/groups/neverchrist2000