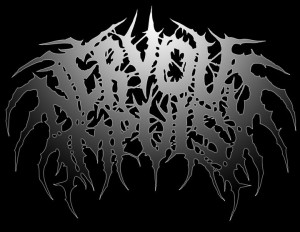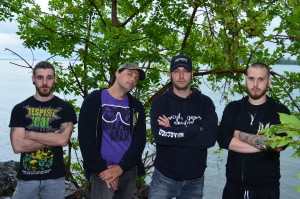 Summon: How did the band get started?
Yan: I had many bands since I moved in Montreal in the late 1990's, different kinds of extreme music, mostly with Éric Fiset on vocals. In 2007, I felt like it was the right time to do exactly the kind of music that gives me a real kick. No compromises, straight forward, ridiculously violent, Death Metal with Grindcore elements for good measure. We unleashed our first album "Enough for Dementia" in 2009.
Summon: What kind of music do you play?
Yan: Our latest album ''Time to Panic'' has a lot of Technical Grind but there's also a lot of Brutal Death Metal elements on this one. Basically it's a huge blend of North American Death Metal mixed with the European Grindcore attitude. We like to call it: Pure Insane Brutal Death/Grind Fury!!!
Summon: How has the fan response been?
Yan: Since the very beginning, the response and support from the fans has been really overwhelming. People from all over the globe get in touch and ask questions or simply buy the CD's and show their appreciation. We like to be really close with them, answering everyone's request is really important for me. I just opened an account on Vkontact (http://vk.com/nervousimpulse) to satisfy the eastern European fan base and show them that we're around despite the distance that separates us.
Summon: Where did the band name come from?
Yan: I was just thinking of what the first compositions of this project made me feel like and it just came naturally… The music strikes like a "Nervous Impulse" full speed ahead. Information transmits at lightening fast speed with intense music that's straight to the point.
Summon: Introduce the band members and what they do in the band.
Éric Fiset: Vocals … makes so many different types of voices on demand. He adds a lot of human emotion to the music. I've know him for 17 years now and he still surprises me. He renews himself each time in order to push himself to the limits. A real life Godzilla!
Félix Bourcier: Bass … makes a variety of bass techniques to create punchlines at key spots in our songs. Total live beast, you have to see him in action to understand. He has been around since 2009, he was just a kid back then.
Bruno Mercier: Lead Guitars … the good guy at the good timing! So proud to team up with this highly skilled and energetic guitarist. In constant research for textures, Bruno brings a lot of "new school" to the sound of Nervous Impulse which is now an integral part of our style.
Françis Cousineau: Guitars … Just joined the band right after the recording sessions of "Time to Panic". Tight as hell, precise, experienced, fast learner with a god damned fast picking style. Definitely another musician who kills it in a live situation. Naturally a talented guy.
Yan Chamberland: Drums … Making fast noises! …two others full part members of the family are: Hugues Deslauriers – Soundman … The guy who can put sounds to you thoughts. He can pinpoint exactly what you have in mind every single time you need to, keep the aggression of each instruments and put it in a cohesive mass. Truly understands how Nervous Impulse should sound and posses the secret of this massive sound! Filip Ivanovic – Artist … simply the nicest guy possible and my favorite artist of all. His art fits so well with our music and bind the visual aspect to the rawness of our music. Really accomplished artist and a sure value to have around when it's time to put out an album. Keep an eye on this guy. The best is yet to come.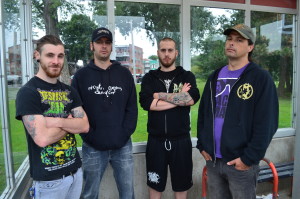 Summon: Who writes the music? Lyrics?
Yan: I mostly write the music parts with Bruno and Eric takes care of all the lyrics and song concepts.
Summon: And where do the lyric ideas come from?
Yan: After more than 25 years in the scene I did 100's of songs and was bored of the same redundant subjects coming back. Decades and nothing as changed in our society, it's even worse…no one listens to anything. I thought to myself that talking about me is no worse than listening to a bunch of songs about society and so called people who know better. I hit weird subjects that matter to me and don't really care if I offend the purists.
Summon: How many albums/CD's have you released?
Yan: 2 full albums, "Enough for Dementia" (2009) and "Time to Panic" (2015) … plus a lot of promo/splits and compilation Cd's.
Summon: Tell me about some the songs on the latest CD?
Yan: The whole "Time to Panic" album revolves around some of my life experiences. I am 44 and decided to talk about real stuff that matters to me. Just for example, "Nostalgic Memories" is the story of my life. "Wing Clipper" is a confession on how bad a person I was in the past. "Time to Panic" is about some anxiety attacks I had. "Overwhelming Positive Vibe" is a song I made for my depressive friends. "The Neighbour's House is on Fire" is a real event that I lived through and totally freaked out bad. "Oil Spills" is a bit about the Lac Megantic train wreck (google it)… "Prorogued Democracy" is a love song toward the Canadian Prime Minister (sarcasm). "My Right to Medicate" is about medical marijuana in Canada. "9 Meals to Anachy/Riot Solves Everything" is about how bad people are and how quick shit will hit the fan in any disaster scenario. "Syrian NATO Meat Grinder" is my revulsion about NATO sticking its nose and pouring oil on the fire, this song is 3 years old and looking at the actual situation, I hit the nail on the head with that one. "Eclipse of Personality" is a tribute to my friend Sylvain Houde (Kataklysm's first signer) the legend. "The Last Call" is about this album probably being my last recording before my voice decreases in strength, hence it's never fully growled so deep. "Vexed" is an Agoraphobic Nosebleed cover. "Dead Jeremians" is about how the government scarified 35 teenagers who where living in a center called ''House of Jeremy'', they closed the place and kicked the kids out on street. Most of them became hard drugs addict, many died. Ugly story.
Summon: Who are some of your musical influences?
Yan: A lot of New York style DM, our Canadians roots, Czech Grind and new school DM.
Summon: Which current bands?
Yan: Suffocation, Dying Fetus, Cryptopsy, Kataklysm, Pigsty, Cerbral Turbulency, Blood Duster, Devourment, Oceano, Waking the Cadaver, Brutal Truth, Cattle Decapitation, Human Remains, Agoraphobic Nosebleed…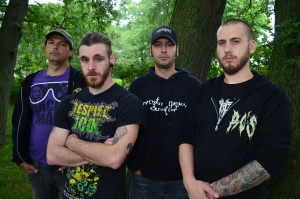 Summon: What is the band like when you play live?
Yan: A bomb of energy blasting you right on the forehead!!!!
Summon: Have you guys ever played in another country?
Yan: No, but we'd love to go see our fans outside of Canada and where they come from culturally. It would be nice to do a Fest like Obscene Extreme for example. We also had offers to play in Colombia which would be great… let's see!
Summon: When do you guys plan on writing any new material?
Yan: We'll enjoy what this CD produces for us… doing some shows and be back to write new stuff again. That's what the whole thing is all about.
I would like to thank you for this interview and a big cheers to all our friends and fans worldwide. You are the best!
Contact them at:
http://www.blastheadrecords.com
https://www.facebook.com/NervousImpulseGrind
http://www.youtube.com/user/NervousImpulse