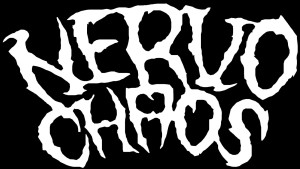 Nervochaos
"The Art of Vengueance "
2014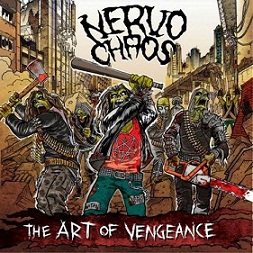 The Art of Vengueance is the sixth album by Nervochaos released in June 2014 by Cogumelo Records, which presents 12 songs of 41 minutes long and includes a DVD entitled "Warriors on the Road", presented to the public two years after "To The Death" which I reviewed earlier, this new heavy attack continues in the same vein of its predecessor, with a lot of creativity and time variations, perfectly synchronized between each song, they keep the pattern of short lyrics written between 2 or 3 paragraphs repeated over the course of the song being thus texts of great remembrance, with lyrics that speak about the evils which presents society, politics, religion.
The sound of Nervochaos brimming with South America death metal riffs and the distinctive voice of Guiller capture the listener during the first 4 songs, with marked aggressiveness in their compositions and choir backing him with great energy.
" From Below and not Above" breaks this scheme as it starts very doom at the style of Morbid Angel's classic "Rapture", in the second half of the song they come back to the usual style of Nervochaos, with a riff and solo guitar that give a different atmosphere to return again to the initial riff, I think it would have been more successful for the song continue on the same style of the band, with a time faster and not return to the initial doom riff, to avoid monotonous.
"Blood Ritual" is a song that presents much more variety and feel the power of the Brazilian metal in its composition, including some parts of the lyrics in Portuguese, from this point, back strength and variety in their riffs, reminds me in some of its tunes to old Sepultura album "Schizophrenia".
"The Legacy is Pain" is a song with great energy from the start, very speed riffs that remind me of Metallica's "Battery".
"Lightless" is the song that is responsible for closing the album, once again leaving the outline of the band, with rhythms doom sounds like Paradise Lost in his first albums, something different from what we've heard from Nervochaos, they create a macabre atmosphere with this song in its last segment acquires a fast and aggressive rhythm, although I prefer the style that handled most of his compositions which are recognized.
This album has 2 video clips that can find on YouTube, "Passion For Fashion not" and "The Devil's Work".
Tracklist:
1. The Harvest
2. For Passion not Fashion
3. The Devil´s Work
4. Betrayed
5. From Below and not Above
6. Blood Ritual
7. Rotten Moralism
8. Shadows of Destruction
9. Ghost of the Past
10. What is Dead May Never Die
11. The Legacy is Pain
12. Lightless
Top Songs:
The Harvest, For Passion not Fashion, The Devil´s Work, Shadows of Destruction, Ghost of the Past, The Legacy is Pain
https://www.facebook.com/NervoChaos
Members:
Eduardo Lane – Drums
Guiller – Guitars
Felipe Freitas – Bass
Rating: 9 out of 10
~Gusthav
Nervochaos
"To The Death"
2012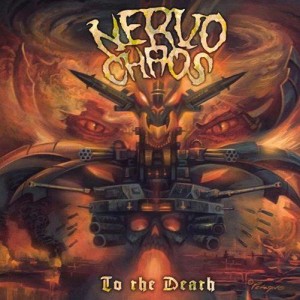 Nervochaos is a Thrash Death Metal band formed in 1996 in Sao Paulo, Brazil with antichristian themes.
I had the opportunity to see them in my city, Medellin in November 9th of 2012 with Masacre from Colombia, Mystifier from Brazil and Absu from US, promoting his album "To the Death", they comeback on December 9th of 2014 for the show with Aldemonio from Colombia, Blood Red Throne from Norway and Enthroned from Belgium, this time they played classic songs and others from their new album "The Art of Vengueance".
I cannot miss the opportunity to interview them, take a picture with them and buy their albums "Quarell in Hell" and "To the Death".
The band has an extensive discography, it consists of a 1996 demo with the same name, a full lenght of 1998 entitled "Pay Back Time", released another demo in 2000 called "Disfigured Christ", their second full length in the year 2002 entitled "Legion of Spirits Infernal", an EP in 2004 called "Necro Satanic Cult" and the full lengths "Quarell in Hell" in 2006, "Batallions of Hate" in 2010, "To the Death" in 2012, "The Art of Vengueance " in 2014, plus the live album" Live Rituals " in 2011, the Split" Panzer Fest "and the video Split" Gutural Second Encounter "in 2013 and Boxed Set" 17 Years of Chaos "containing 2 DVD and one compilation "with live tracks and demos CD.
Some of these productions were made by Tumba Productions, label that belonged to his drummer Eduardo Lane.
Currently the band is formed by Eduardo Lane on drums, Guiller on guitars and vocals, Felipe Freitas on bass and Quinho on guitar.
For this review I'll be focus on their fifth album "To the Death", edited by Cogumelo Records in 2012 and contains 13 songs, for a duration of 42 minutes.
The album begins with a powerful "Mark of the Beast" which is a total discharge of good thrash death metal at high speed without stopping.
Following several songs with a very compact sound that invite to head banging all the time, sticky riffs and solos that highlight the skill and creativity of their guitarists.
Throughout the album we see variations of time, while maintaining energy and aggressive metal, speed rhythms attacks with very original and an experienced sound mix of South American death metal influenced by some European bands.
A trend in the lyrics, there are short but with direct messages in English that remains engraved in the mind, a powerful raspy and guttural voice full of hatred.
If you have the chance to get some music of Nervochaos you won't be regret.
Tracklist:
1. Mark of the Beast
2. Sheep Amongst Wolves
3. Your World´s Trend
4. Gospel of Judas
5. The Exile
6. To the Death
7. Hate
8. Smoking Mortal Remains
9. Mind Under Siege
10. Delusions and Lies
11. Destroyer of Worlds
12. Warlords Unbound
13. Wolves Curse
Running Time: 42:42
Top Songs:
Mark of the Beast, To the Death, Hate, Smoking Mortal Remains
https://www.facebook.com/NervoChaos
Members:
Eduardo Lane – Drums
Guiller – Guitars/Vocals
Felipe Freitas – Bass
Quinho – Guitars
Rating: 9 out of 10
~Gusthav